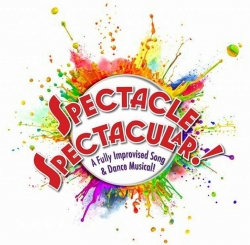 Chicago, IL, August 03, 2016 --(
PR.com
)-- The uniquely Chicago "Spectacle Spectacular" playing at first-of-its-kind musical comedy theater MCL Chicago prepares to close its second successful season with a twice-extended run to follow last year's sellout debut. SS, a collaboration of J. Lindsay Brown Dance and improv comedy troupe The Glitter Island Gang, circumvents the curse of elaborately-produced theater by way of blending Second City improv with modern dance and live improvised musical accompaniment. Where traditional staged works may fail to move theatergoers much beyond awe at sets, scores and costume design, SS succeeds in hilarity and poignancy of-the-moment rife with classical, pop-culture and brazenly nerdy references and spawned by audience prompt. Lauren Warnecke of Art Intercepts described SS 2015 as having "...a fully-developed plot, interesting and surprisingly complex characters, catchy tunes and a couple of belted ballads, and a whole lot of laugh-out-loud moments..." SS' cast of twelve, half dancer and half improv comedian by specialty, foment harmonies, anthems and rounds and layer and form human setpieces that shuffle with each song and scene on MCL's intimate half-thrust.
With improv musical comedy on the rise MCL was founded in 2014 by Michael Jordan, Stephanie McCullough and Alex Garday in the heart of Lakeview's Belmont Theater District. Says Jordan, "Myself and my two business partners took the opportunity to rebrand the former Studio BE into MCL to give this art form a chance to thrive." Alongside signature productions VAMP and incumbent acclaimed musical "Ayn Rand in Love" the theater on September 30 opens its newest original production, "Curse of the Goat," celebrating (lampooning?) Chicago Cubs fervor, to run through early November.
Of MCL's productions Spectacle Spectacular draws the greatest audience diversity and wraps with a final added show this Sunday. "For a lot of improv shows the general demographic is other improvisers, but that has not been the case with Spectacle Spectacular," says Neil Figuracion, Second City alumnus and director of The Glitter Island Gang. Figuracion and his SS co-director J. Lindsay Brown met at a workshop in 2013 and soon after began tabling improv movement concepts amid the early concerts of Brown's then-nascent dance company. Per his fifteen years teaching swing and social improvisational dance Figuracion "had a vocabulary that I saw wasn't being addressed within the comedy world. There's been a surge in musical improvisation over the last decade, but from major cities and major markets to not-so-major markets, the level of dance in produced works has been minimal and under-integrated." Brown counters, "It made me think, but can't we? And we could! You'd have to have everybody be willing to do a bit of everything." Brown's company dancers run with the challenge and in turn The Glitter Island Gang's pirouettes and chassés are nothing, or something, to chuckle at.
Tickets for Spectacle Spectacular available presale and at student discounts: http://www.mclchicago.com/spectacle-spectacular.html
Press contact: Michael Jordan, Publicity Manager MCL Chicago, michael@mclchicago.com