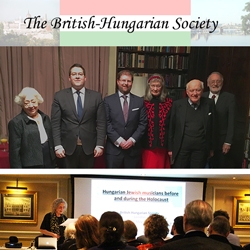 London, United Kingdom, June 24, 2017 --(
PR.com
)-- The British Hungarian Society is proud to announce that Professor Tibor Frank will present a talk on international relations at the Carlton Club.
The professor will present a fascinating exploration of the rich history of British-Hungarian relations in his talk entitled:
"Hungary and Britain: A History of Wishful Thinking?"
He will discuss Hungarian efforts to gain the goodwill and political support of Britain from 1848 through 1944 and again after 1956, while at the same time always belonging to alliances representing Britain's adversaries. The doublespeak of Hungarian propaganda endeavours is an intriguing reflection of the divided nature of Hungary's identity between East and West.
The British Hungarian Society has recently held three successful events and supported a fourth:
· "Reflection on the Society's journey thus far and celebration of the 15 March Hungarian Revolution of 1848" at the Oxford & Cambridge Club;
· Memorial Dinner for Sir Gavyn Arthur at the Athenaeum Club in May;
· Ágnes Kőry's intriguing talk on Hungarian musical life, Jewish participation and the Holocaust at the Oxford & Cambridge Club in May; and
· Supported the VIP UK launch of artist Máté Orr by Jane & Lance Hattatt at the Fairhurst Gallery in April.
In brief, the Society was founded 27 years ago and has enjoyed the patronage of Otto von Habsburg and the support of ambassadors and other dignitaries from both countries. The committee includes Countess Ilona, Professor Dr Eva Kohner, who was awarded an OBE for her ground-breaking work in treating Diabetic Retinopathy, and Adrian Longley OBE, a notable solicitor, Robin Hutchinson, the Treasurer Paul Boon CF, and Secretary Vilmos Kuhajda ACSI.
The distinguished members of the Society have backgrounds in politics, economics, science, medicine, finance, trade, culture and education and it hosts a range of meetings in accordance with its statement of purpose:
"The British Hungarian Society was founded in 1990 at a time when Hungary was embracing democracy and a new freedom in contact with the West. It aims to bring together all, British and Hungarian alike, who are interested in Hungary and in further development of British-Hungarian relations."
Details about the Society and its events can be found on the BHS website.
Events are by invitation only so please contact the Secretariat to be added to the guest list.