LaBovick LaBovick & Diaz Attorney Wins Prestigious Awards Head of Maritime Law Division Recognized by Legal Community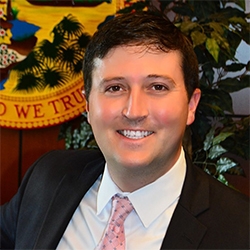 Palm Beach Gardens, FL, June 30, 2017 --(
PR.com
)-- LaBovick LaBovick & Diaz is pleased to announce that attorney Peter Hunt, Esq., has won the prestigious Young Lawyers' Section Chairman's Award from the Florida Justice Association. Hunt, who heads LaBovick's Maritime Law division, is recognized for his outstanding work and tireless dedication to justice.
The FJA's Young Lawyers' Section is reserved for attorneys under age 36 who have been practicing for fewer than 11 years. This section enables promising young attorneys to gain perspective and insight, while furthering the FJA's mission to protect the civil justice system. As the FJA's 2017 honoree, Hunt demonstrates both his expertise and his commitment to providing the finest counsel to LaBovick's Maritime Law clients. Hunt, a St. Thomas University School of Law graduate, says, "I'm humbled by this honor. FJA's pro-safety, pro-rights platform enables the legal community to work collaboratively to strengthen the justice system, while empowering citizens and communities."
For over 70 years, the FJA has been striving to advance Florida's civil justice system and protect the rights of its citizens and consumers. Operating under the belief that all Floridians deserve the opportunity to seek justice through the legal system and that industries/corporations should be held to the highest ethical standards, the FJA has dual purposes: to ensure the public understands their rights and to vigorously safeguard and protect those rights. Through his work with LaBovick, Hunt puts these ideals and principals into action.
In related news, Hunt also won the Bronze EAGLE Award from the Florida Justice Association. According to the FJA, EAGLES "take the critical but necessary step from being a member of the FJA to being a leader and an advocate for public service, setting an example and leaving their mark to protect access to Florida's courts." EAGLE members work collaboratively to protect Floridians' rights and safety and are recognized as leaders in their fields.
Peter Hunt, Esq., has been with LaBovick since 2013, when he started as a legal intern. Now an Associate Attorney, Hunt leads the
Martime Law
division, representing clients and networking with local marine professionals and boaters. Hunt is active in a number of professional associations; he serves on the board of directors for the Palm Beach County Justice Association and the FJA and is a member of the Florida Young Lawyer Task Force, American Association for Justice, Florida Bar, and Palm Beach County Bar Association. Hunt is also an avid volunteer with Legal Aid Society of Palm Beach, Peggy Adams Animal Rescue League, Masters in Trial CLE Seminar, and the Florida Fishing Academy Board of Directors.
The
Law Firm of LaBovick LaBovick & Diaz
serves clients in Florida and throughout the United States. Their expertise in multi-million dollar maritime, social security disability, workers' compensation, personal injury, and PIP collections cases has led to successful results for clients. Sound and researched legal advice, coupled with exceptional representation at every stage of a case, ensures clients' rights are protected to the full extent of the law. LaBovick offers a free initial consultation and will deliver an honest, informed assessment based on case law, facts, and their experience within the legal system.
Contact
LaBovick, LaBovick & Diaz
Brian LaBovick
(561) 623-3508
https://www.labovick.com
Jkremer@Thatagency.com

Contact