Rhode Island Comic Con to Feature Star Wars Exclusive
The Biggest Show in the Smallest State partners with Massachusetts toy company to offer exclusive Star Wars themed exclusive to attendees of 6th annual event.
Warwick, RI, August 27, 2017 --(
PR.com
)-- Altered Reality Entertainment, in partnership with Schylling Toys, is excited to announce the 2017 exclusive action figure—a three-character collection of classic tin wind-up toys from the Star Wars galaxy.
The designs are based on the original concept art from the 70s. The three wind-up tin toys include 'White' Boba Fett™, Darth Vader™, and a Stormtrooper. Sold in a retro-design packaging, only 1500 of each character will be produced. A limited quantity of each character will be available for pre-order beginning today. Attendees who pre-order will be able to pick up their selected toy from the on-site RICC Show Store. Convention admission is required to pre-order. Additional quantities will be available for purchase in the Show Store during the weekend of Rhode Island Comic Con, while supplies last.
Jeremy Bulloch, who played the part of Boba Fett in the original Star Wars trilogy, commented about the exclusive toy, "The concept art was pure genius and these models are amazing—I want one!"
"We are thrilled to have Altered Reality Entertainment feature these exclusive Star Wars tin wind-ups at Rhode Island Comic Con," said Paul Weingard, President of Schylling Inc. "It's a worthy addition to our popular line of Star Wars tin toys. These retro versions of the characters are sure to excite Star Wars fans of all ages."
To pre-order this year's exclusive, visit: https://register.growtix.com/e/rhode_island_comic_con_2017
Tickets are currently on sale through the Rhode Island Comic Con website at www.ricomiccon.com, and the Dunkin Donuts Center Arena box office. The 6th Annual Rhode Island Comic Con arrives November 10 to 12 at the Rhode Island Convention Center, and the Dunkin Donuts Center arena.
About Altered Reality Entertainment, LLC:
Altered Reality Entertainment, LLC is an entertainment event company that produces multimedia, multi-genre events throughout the US, including their flagship event Rhode Island Comic Con, ComiCONN "A Show for the Fans by the Fans," Colorado Springs Comic Con, and Terror Con. Altered Reality's latest ventures include comic book publishing and preparing for future expansion.
About Schylling Inc.:
For over forty years, Schylling, Inc. has specialized in timeless toys. We started out making delightful playthings from a bygone era. Over time we've built a distinctive collection of innovative gifts and traditional toys with nostalgic appeal for all ages. As an award-winning toy company located in North Andover, MA on the beautiful North Shore of Boston, Schylling works to create the future in toys by captivating new designs and intriguing refreshes and innovations of toys from the past. Schylling offers original and distributed lines of toys. Among these lines are the iconic tin toys that have been an important part of the history of the company. Schylling is the world leader in the manufacture of Jack-in-the-Box toys and tin Kaleidoscopes, among others. Toy lines include the Nanoblock, PaperNano and Terrablock family of products, the Steelworks line of construction toys, the original Lava Lamp series, Turbospoke, Crazy Foam, Fisher-Price Classics, the Zuru Bunch-o-Balloons, illooms LED balloons, the Lottie line of dolls, the Style Model line, the recently added Tiger Tribe arts and crafts playset line. Schylling's long list of toy categories including Classics, Games, Retro Toys, Ride-Ons, Pretend Play, Just for Fun, Magic, Arts & Crafts, Great Outdoors, Tents, Die-Cast, Money Matters, Music, Sock Monkey, and BeBots tin wind-ups featuring Star Wars and Pixar characters as well as Curious George. Schylling is proud of its heritage and in offering high quality, safe and creative products that lead the toy industry. Visit the company website at www.Schylling.com or Facebook page at www.facebook.com/SchyllingToys
Contact
Altered Reality Entertainment
Susan Soares
401-633-5428
www.ricomiccon.com

Contact
Multimedia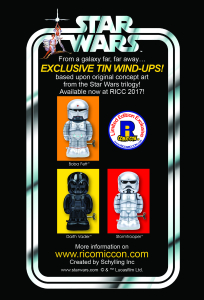 The Biggest Show in the Smallest State partners with Massachusetts toy company to offer exclusive Star Wars themed exclusive to attendees of 6th annual event.