New Real Estate Brokerage, Sachs Realty, Announces Grand Opening with a Strategic Vision for Success
Todd Sachs, Broker and Founder of Sachs Realty, opens its first office in Maryland.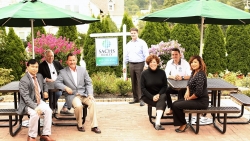 Cockeysville, MD, September 15, 2017 --(
PR.com
)-- Sachs Realty, a new Maryland real estate brokerage, opens its first office in Cockeysville, Maryland with agents serving residential and commercial real estate markets.
Broker Todd Sachs founded Sachs Realty on three core principles: experience, technology and transparency. "We believe in hiring experienced REALTORS© with a proven record of success and providing them with the latest in technology to forward them into the new generation of real estate. It's an exciting but challenging time for real estate agents. They need brokers with a vision for the future - brokers that supply the tools needed to excel in the 21st century," says Sachs.
Sachs' motto "Breaking through brick and mortar" echoes this thinking. "As transactions become paperless and contracts are done outside the office, the right technology is essential. Clients rely on secure transactions, easily accessible contracts, and agents who know their trade," says Sachs.
Sachs says his almost 30 years of experience in a wide range of real estate industries will help his agents succeed. "Agents are more productive and make better decisions when they can use their broker as a resource to give support and direction on many different issues. I have the range of experiences to do this."
His impressive career encompasses land development, building residential and commercial real estate, rehab property flipping, property rental and management, residential and commercial condominium development, homeowner association development, and zoning and permitting matters.
The Sachs Realty logo, a green and blue multifaceted globe, represents their all-round approach to real estate. "It's a unique logo that works on many levels. We've gotten incredibly positive feedback on it. Clients love the way it looks!" says Sachs.
Sachs Realty made their first debut at the Maryland REALTORS® Rock Fest conference in Ocean City, Maryland, September 11 – 13 where attendees stopped by their booth to meet the agents and entered to win prizes.
A launch party celebrating their opening is also planned. "We are excited to host a Sachs Realty Break Out BBQ to introduce our agents and our business model to the community," Sachs says. The barbeque will be held October 12, 2017 at 134 Cockeysville Road, Cockeysville, Maryland by invitation only. Contact their office if interested in attending.
About Sachs Realty
Sachs Realty agents have a passion for real estate and strive to provide each client with the best service in the industry using their extensive experience, the latest in technology and a desire to keep every transaction simple, secure, and transparent. Sachs Realty is actively seeking agents who want to grow their business. To learn more about what Sachs Realty can do for you, contact Bryan Vandanna at bv@sachsrealty.com or 443-608-8620.
Contact:
Sachs Realty
Todd Sachs
410-599-8323
http://www.SachsRealty.com
Contact
Sachs Realty
Todd Sachs
443-318-4514
www.sachsrealty.com

Contact