SolidTrust Pay Ranks No. 187 on the 2017 PROFIT 500
Canadian Business unveils 29th annual list of Canada's Fastest-Growing Companies.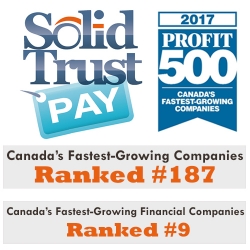 Toronto, Canada, September 15, 2017 --(
PR.com
)-- Canadian Business and PROFIT today ranked SolidTrust Pay No. 187 on the 29th annual PROFIT 500, the definitive ranking of Canada's Fastest-Growing Companies. Published in the October issue of Maclean's magazine and at CanadianBusiness.com, the PROFIT 500 ranks Canadian businesses by their five-year revenue growth.
SolidTrust Pay made the 2017 PROFIT 500 list with five-year revenue growth of 344%. That percentage earned them the 9th spot overall among 28 financial services companies on the list.
"It is never easy to earn a spot on the PROFIT 500, but this year's applicant pool was the most competitive yet," says Deborah Aarts, PROFIT 500 program manager. "This year's winners demonstrate the resilience, innovation and sheer management smarts it takes to build a thriving business today. Canada - and the world - needs more entrepreneurial success stories like these."
"SolidTrust Pay is honoured to be on the PROFIT 500 ranking," says CEO Stella Hiemstra. "This achievement reflects the strength of our business and the dedication of our team."
SolidTrust Pay is an eWallet and online payment processor that started in cottage country Kawartha Lakes, Ontario, over 11 years ago and has grown to serve millions of customers worldwide from multiple offices across Canada. While their head office remains in the Kawartha Lakes area, much of their tech-support and customer service comes from a satellite office in Halifax, Nova Scotia. In addition to buying and selling online, customers use SolidTrust Pay to send family remittances and make cross-border bill payments. Merchants also use SolidTrust Pay to accept and convert cryptocurrencies for website purchases.
Visit SolidTrustPay.com
About the PROFIT 500
For 29 years, the PROFIT 500 has been Canada's most respectable and influential ranking of entrepreneurial achievement. Developed by PROFIT and now published in Maclean's magazine and at CanadianBusiness.com, the PROFIT 500 ranks Canadian companies on five-year revenue growth. For more information on the ranking visit PROFIT500.com or CanadianBusiness.com.
About Canadian Business
Founded in 1928, Canadian Business is the longest-serving and most-trusted business publication in the country. It is the country's premier media brand for executives and senior business leaders. It fuels the success of Canada's business elite with a focus on the things that matter most: leadership, innovation, business strategy and management tactics. Learn more at CanadianBusiness.com.
Media contact:
Travis Murphy
SolidTrust Pay
Media@SolidTrustPay.com
Contact
SolidTrust Pay
Travis Murphy
902-488-3235
solidtrustpay.com

Contact