"You're Too Close to Give Up Now" by Ron Walker
Newest release from author Ron Walker. This book will encourage, inspire and push the reader into a new level of life.
Atlanta, GA, March 23, 2018 --(
PR.com
)-- The latest book from Ron Walker is now available in English, Spanish and French.
Everyone goes through hard times, but quitting won't get you any closer to your goal. Now isn't the time to let go. Now is the time to hold on tighter and believe in yourself even more. "You're Too Close to Give Up Now," by Ron Walker is a collection of quotes, stories and real-life testimony geared towards getting you where you need to be. Be stronger. Believe more. Do better.
You're Too Close to Give Up Now
By: Ron Walker
Category: Self Help, Inspiration
ISBN: 978-1985152991
Paperback $14.99
E-Book $7.99
Ask for it at your favorite bookstore or order online wherever you buy books. Also available in Spanish and French as "Estas Demasiado Cerca a Renunciar Ahora," and "Vous Etes Trop Pres D'Abandonner Maintenant," respectively.
Ron Walker is the Associate Pastor of Fresh Bread Christian Ministries based in Atlanta, GA. He has been writing, speaking and ministering for over 15 years now. He delivers a powerful message of faith, focus and determination. He is a licensed and ordained Christian minister that holds degrees in Biblical Studies, Theology and Psychology. He has authored such books as, "The Process," "I Almost Gave Up," "On Track, to the Kingdom," "Your Best Day Today," and recorded such motivational CD's as "One Day at a Time," "Passion 101," and "Dollar and A Dream: Succeed or Die Trying."
For more information, contact:
@AuthorRonWalker on social media
AuthorRonWalker@Gmail.com
AuthorRonWalker.com
Contact
Ron Walker
(404) 496-3906
AuthorRonWalker.com
@AuthorRonWalker

Contact
Multimedia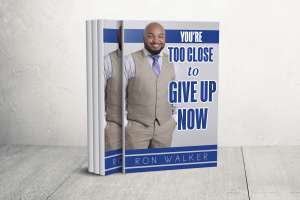 The 12th book from Author Ron Walker, "You're Too Close to Give Up Now," is currently available in English, Spanish and French.