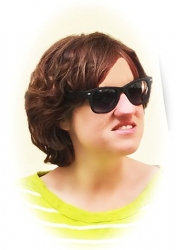 Riverdale, NJ, April 20, 2018 --(
PR.com
)-- Jessica Sisco of Riverdale, New Jersey has been honored as a Woman of Distinction by P.O.W.E.R. (Professional Organization of Woman of Excellence Recognized) for her outstanding contributions and achievements in the field of alternative healing. Each quarter we choose four women for the distinction award. These four noteworthy women deserve recognition for their exceptional accomplishments. They go the extra mile to achieve results and create a significant impact in their chosen profession.
About Jessica Sisco
Jessica Sisco has 3 years experience as a psychic medium. She is the Founder of Spiritual Readings NJ, which provides psychic and mediumship services nationally. She is a Psychic Medium who specializes in psychic guidance and evidential mediumship for the purpose of empowering and uplifting clients. Her readings provide connection, clarity and direction through mediumship and intuitive guidance. Ms. Sisco provides recordings of readings for clients as needed.
Although Jessica had experienced spiritual contact as a child, she resisted it for many years. However, she always accepted the fact that she was psychic. And, like any other child, she just wanted to be accepted by her peers. She also wanted a college education and a job so that she could be seen and accepted as a respectable member of society. Jessica attended college where she studied social work because she always wanted to be in a service-based profession. During this time, she was still feeling presences and receiving communication from the spirit world. Ms. Sisco began to question whether social work was the right path for her, and she was also recovering from her own battle with depression. After graduation, she wanted to do what she thought was expected of her and planned to receive her master's degree in social work. After a lot of soul-searching, she began to explore mediumship. When Jessica was a social work student, she wanted to have her own private practice as a therapist. Now, she has her own business, and she gets to help people through mediumship and intuitive guidance. She finally took the plunge and never looked back.
Jessica is passionate about facilitating the connection between clients and their deceased loved ones. She is also passionate about helping people to navigate life's obstacles while gaining clarity, which she does through intuitive guidance.
Ms. Sisco received training in evidential mediumship from MontClair Metaphysical and Healing Center, where she continues her development. In her spare time she enjoys being in the outdoors.
Jessica states, "Although I was born blind, I do not allow that to stop me from living my life. I believe that many of our so-called limitations are products of our minds, and I try to bring that across in my readings and in my life."
For further information, contact
www.spiritualreadingsnj.com
.
About P.O.W.E.R. (Professional Organization of Women of Excellence Recognized)
P.O.W.E.R.'s mission is to provide a powerful network of women who will mentor, inspire and empower each other to be the best they can be. Through our valuable services, and collaborating with like-minded professionals, our members can gain the recognition and exposure to achieve their career goals.