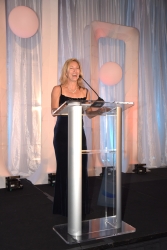 Irvine, CA, April 11, 2018 --(
PR.com
)-- Meeting Professionals International Orange (MPIOC) County Chapter Announces Lisa Meller as Winner of 2018 Smart Women in Meetings Award
MPIOC is proud to announce that their member, Lisa Meller, CMP, CEM, has been named a 2018 Smart Women in Meetings Awards winner. Designed to honor and celebrate top-performing women in the meetings industry, the Smart Women in Meetings Awards recognizes female meeting professionals in six prestigious categories including Visionaries, Industry Leaders, Innovators, Entrepreneurs, Trail Blazers and Rising Stars.
Now in its third year, the awards platform has gained rapid notoriety and serves as a notable metric of achievement for meeting planners nationwide. Nominated by their peers and colleagues, and ranked against hundreds of their extraordinary meeting peers, these award winners earned top recognition for their hard work and contributions to the meetings industry.
Lisa Meller, has earned recognition in the Industry Leader category for her commendable contribution to the meetings industry. She currently serves in a leadership role for Meeting Professionals International (MPI) Orange County Chapter (@MPIOC) and is an active member of the domestic and international meetings and incentive program community. In 2017 she opened her own consulting agency to help businesses grow through experiential events. Her expertise has helped corporate and association-based organizations run powerful conferences, symposia, group travel incentive programs, and expositions.
"I'm delighted to award all of our dedicated 2018 Smart Women in Meetings Awards winners for their outstanding accomplishments and profound contribution to our industry," said Smart Meetings founder and CEO, Marin Bright. We're a female-driven industry and it's more important than ever to honor and support our female meeting ambassadors and pay tribute to their diligence, talent and extraordinary work ethic."
In addition, their local Meeting Professionals International Orange County chapter honors and recognizes this achievement. MPIO, a leading chapter among a global organization of over 17,000 members, is dedicated to education, leadership, and advocacy for our industry. Current MPIOC President, Heather Even, CMP, says, "Lisa and I have served together on the board of Meeting Professionals International, Orange County since 2013. She is an inspiration to many and has taken our chapter to the next level through her service not only as Director and VP of Education but also as President. Her vision has led to unique and innovative programs and initiatives and has challenged our board and our members to take our events and industry to the next level. Our chapter prides itself on quality education, networking, and leadership development for both our planner and supplier communities. Lisa has been instrumental in creating cutting edge and creative events for our members. Her energy and passion for our industry is something we all aspire to have. She has been a tremendous mentor and friend, and I am incredibly proud of her achievements." –Heather Even, CMP, MA – MPI, Orange County Chapter President 2017-2018
"It's an honor to be recognized among so many inspiring visionaries and achievers in our industry. Our work is built on solid relationships, trust, and partnerships with the incredible teams of people who dedicate themselves to designing and delivering meaningful business events. We value opportunities to inspire others to share the vision and to get excited about the power of bringing people together for enriching experiences. As we say in MPI, when people meet, we change the world!" -Lisa Meller, Managing Director
Smart Women in Meetings Awards winners was featured in the March 2018 edition of Smart Meetings print and digital magazines, and the event will receive extensive online coverage and receive on-stage honors at the third annual Smart Woman Summit in partnership with Fort Worth Convention and Visitors Bureau on April 19, 2018 at the Wyndham Grand Chicago Riverfont. Lisa Meller will attend in person to receive the honors. She is a speaker, mentor, and recognized industry professional.
2018 Smart Women in Meetings Awards Winners
MPIOC.com
www.MellerPerformanceEvents.com
Media Contact
Mike Lasher, Chapter Administrator
info@mpioc.com
O: 714-258-1674