"New to the Street" Launches New Film Series "Exploring the Block" Focusing on Innovative Companies Utilizing Blockchain Technology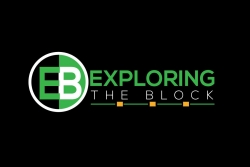 Melville, NY, May 01, 2018 --(
PR.com
)-- "'New to the Street' brings to the viewing audience a spectrum of companies, each on the threshold of breakthroughs in their respective markets," states Vince Caruso, president of FMW Media Works Corp.
FMW Media Works Corp. ("New To The Street"), a leading provider of business profiles and special corporate sponsored programming was in studio April 26, 2018 filming its upcoming episode of "New to the Street." The Program features Solar Integrated Roofing Corporation (OTCPINK: SIRC), Sansal Wellness Holdings Inc. and Reign Sapphire Inc.
FMW Media Works Corp. is excited to announce that they have launched a new segment to the "New to the Street" program called "Exploring the Block" which will highlight the ever-evolving blockchain industry and the companies utilizing this technology and impacting our lives.
In the premiere "Exploring The Block" segment they will interview CEO Charles Nader of Docademic. Docademic is currently providing free basic healthcare in over 20 countries through telemedicine with the aid of blockchain technology. Their aim is to learn how they are effectively changing the healthcare delivery model.
"Docademic is possibly one of the best applications of Blockchain in the world. Not only do we offer a form of free basic healthcare for the world, we also will enable scientific research of healthcare data of masses which will help us in building an A I healthcare supercomputer. Combined these factors will change the world," stated Charles Nader CEO and Founder.
The monthly "Exploring the Block" segment will feature James Sowers as a co-anchor. James is an experienced angel investor, featured speaker and blockchain strategy advisor. He is also a contributor to well known blockchain publications and has been featured in other well known financial publications. He is also a mentor at Stanford for CS359B at Stanford Designing Decentralized Applications on Blockchain.
"As director of the Greater Good Society. I am honored and excited to be a part of 'New to the Street' Exploring the Block showcasing Docademic, A blockchain based solution to one of humanities most pressing issues inequality access to healthcare by providing free telemedicine!" states James Sowers
· Solar Integrated Roofing Corporation (SIRC) - Following a record breaking quarter, Mr. David Massey presents how the team continues to grow and demand strengthens. Deals were recently reached that the Company believes moves forward their strategy of building a national footprint. With the Company's completion of its first eight installations for Lowe's, Massey will provide insight on management's vision moving forward.
· Sansal Wellness Holdings Inc. - Vice President of Business Development Derek Thomas updates investors and partners on the strategic growth initiatives that are taking place. These initiatives include the expansion of the sales force, opening of a Los Angeles office, new products, and the upcoming launch of their consumer brand, Veritas Farms.
· Reign Sapphire Corp. - Chief Executive Officer Joseph Segelman will be updating investors on advancements toward the launch of the Company's Initial Coin Offering ("ICO"). As the Company approaches the release of Reign Coin's white paper, Mr. Segelman keeps shareholders fully informed on the latest developments.
"New to the Street" airs nationwide on the Fox Business Network. Look for upcoming press releases or join their social media to learn when their upcoming broadcasts will air. Follow them on Linkedin.com, Twitter.com, New to the Street Facebook, and YouTube.com
Those interested may check their local cable provider's channel lineup to find Fox Business Network in their area.
FMW Media Works produces "New to the Street" which paves the way to the latest financial issues, offering a blend of business and financial services news reporting and in-depth interviews relating to new products, economic analysis and public company profiles. "New to the Street" airs in the United States reaching potentially 100 million homes, in Canada reaching potentially more than 5.3 million homes and viewed on other select international stations. Visit www.NewToTheStreet.com.
Forward-Looking Statements Disclaimer:
This press release contains forward-looking statements within the meaning of Section 27A of the Securities Act of 1933, as amended, and Section 21E of the Securities Exchange Act of 1934, as amended. In some cases, you can identify forward-looking statements by the following words: "anticipate," "believe," "continue," "could," "estimate," "expect," "intend," "may," "ongoing," "plan," "potential," "predict," "project," "should," "will," "would," or the negative of these terms or other comparable terminology, although not all forward-looking statements contain these words. Forward-looking statements are not a guarantee of future performance or results, and will not necessarily be accurate indications of the times at, or by, which such performance or results will be achieved. This press release should be considered in light of all filings of the Company that is contained in the Edgar Archives of the Securities and Exchange Commission at www.sec.gov.
For More Information:
New to the Street
Adam Becker
Chief Operations Officer
adam.becker@newtothestreet.com
Docademic
Charles Nader, CEO
www.docademic.com
contacto@docademic.com
Solar Integrated Roofing Corporation
John Randolph
760.916.7444
sircpublic@gmail.com
Contact
New to the Street
Adam Becker
631-465-0284
newtothestreet.com

Contact