Yoga & Cryo Therapy Special Event in the South Bay: Yoga Instructors Melissa Okabe & Kalina Salvador Partner with Beach Cities Cryo
Los Angeles, CA, May 02, 2018 --(
PR.com
)-- South Bay Yoga Instructors Melissa Okabe & Kalina Salvador partner with Beach Cities Cryo to offer an ice cool Yoga x Cryo Special Event on Saturday, May 19th, 2018 at Beach Cities Cyro (located at: 3631 Pacific Coast Highway, Torrance, California 90505). The event will take place from 3:30-7:00pm and include Free Yoga, plus discounted Cryo Therapy, Infrared, and Compression Treatment sessions courtesy of Beach Cities Cryo.
Yoga & Cryo Event Schedule to be as follows: Check-In/Waivers: 3:30-4:00pm; Yoga Session: 4:00-5:00pm; Cryo Therapy & other pre-booked treatments: 5:00pm - 7:00pm. Special Treatment Pricing for May 19th includes: $29 for Cryo (reg. $75); $15 for 30min infrared (reg. $25); $15 for 30min compression (reg. $25). Spaces are very limited and must be reserved by emailing Beach Cities Cryo at (teambccyro@gmai.com) - Mention Yoga with Melissa & Kalina to get the discount.
Beach Cities Cryo clients include former athletes and weekend warriors who like to explore their bodies' physical limits, but don't like pain and soreness. Therapies at Beach Cities Cryo include progressive types of recovery modalities, ranging from cold, heat, compression, to massage therapy. All of these modalities can be used to alleviate pain, reduce recovery times, and improve the overall quality of life.
"This is literally going to be such a cool event! I use Cryo Therapy as a way to help relieve pain in my joints caused by arthritis. I can't wait to share the healing benefits of both the yoga practice and Cryo Therapy with our community. Thank goodness for having a Cryo center right in the heart of our South Bay community. And mahalo Beach Cities Cryo for your support and sponsorship on our upcoming Hawaii Yoga & Wellness Retreat." -Kalina Salvador, Co-Host, Yoga Instructor
"We are excited to host this unique Yoga x Cyro event with Beach Cities Cryo, and are very thankful for their support and sponsorship leading up to Melissa & Kalina's 2018 Hawaii Yoga & Wellness Retreat! Our local South Bay community is so important to us, and hope that this fun event will stand as a sneak peak of the collaborative, holistic spirit we hope to embody on our retreat." -Melissa Okabe, Co-Host, Yoga Instructor
Melissa & Kalina's 2018 Hawaii Yoga Retreat will be held on Thursday October 4th - Monday October 8th at The WhaleSpirit Sanctuary on the Big Island of Hawaii. Spaces are limited to 15 people maximum. Sponsorship for Melissa & Kalina's 2018 Yoga Retreat provided by: Jennifer Fujikawa Photography (http://jenniferfujikawa.com); Melomatic (http://melomatic.co/); Quest Nutrition (http://questnutrition.com ); Beach Cities Cryo (https://www.beachcitiescryo.com); Living Veg (https://www.facebook.com/livingvegla ); Rabano (http://www.rabano.co) ; Heidi Bacani, Licensed Marriage, Family & Child Therapist (http://www.heidibacanilmft.com); Lionside FC (http://www.lionsidefc.com); Promotional Photos Courtesy of Kevin Nakasone.
About Melissa: Melissa completed her 500 hour professional yoga teacher training at YogaWorks Los Angeles, apprenticing with Senior Yoga Instructor David Lynch. She teaches Vinyasa Flow & Restorative Yoga Classes, Workshops, and Privates at Various Studios & Corporate Locations in Los Angeles. She hopes to blend her love for yoga, travel and culture, in expanding her teaching reporatoire to international audiences in the future. Learn more about Melissa on her Website: melissaoyoga.com or connect on Instagram @melissao_yoga
About Kalina: Darlene "Kalina" Salvador has been a certified Personal Trainer (National Association of Sports Medicine) for over 14 years, and is a 500 hour certified YogaWorks Instructor. She has studied with many teachers with different yoga styles and philosophies. With a focus on alignment and integrity in every pose she strives to inspire students to live healthier lives through instilling enjoyable physical movement, breathwork and meditation. She teaches Vinyasa Flow, Restorative, and Prenatal Yoga Classes, including incorporating essential oils into the practice. Kalina offers Personal Training and Private Yoga instructions within the Los Angeles area. Learn more about Kalina on her Website: kalinafit.com or connect on Instagram @kalina247
Contact
Melissa Okabe, Yoga Instructor
Melissa Okabe
310-245-2564
www.melissaoyoga.com

Contact
Multimedia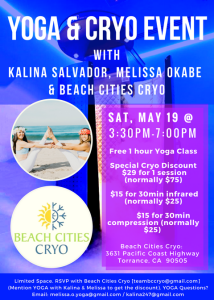 Hosted by Yoga Instructors Melissa Okabe, Kalina Salvador, Beach Cities Cryo