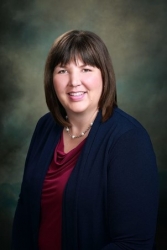 Montague, MI, July 21, 2018 --(
PR.com
)-- Tricia Carlson of Montague, Michigan has been honored as a Woman of Excellence for 2018 by P.O.W.E.R. (Professional Organization of Women of Excellence Recognized) for her outstanding contributions and achievements in the field of real estate. This award recognizes women for their outstanding achievements and high level of success in their industry. They are knowledgeable, goal oriented and do their very best to maintain high standards.
About Tricia Carlson
Tricia Carlson is a Licensed Real Estate Agent with Greenridge Realty in Montague, Michigan. She specializes in residential real estate, working with both buyers and sellers throughout the entire process. She also serves as the Office Manager for Quality Maintenance Contractors. In her spare time she enjoys volunteering with her church and hosting exchange students.
Tricia had decided that she really wanted to be a Realtor, so when her youngest child was a senior in high school, she went online to some real estate websites to do some research. She received a call from one of the sites the next morning and the caller sent her the schedule for the next licensing class. She jumped in with both feet and signed up for the class. When starting out in real estate, Tricia advises that the first year will be very time consuming and hard. If you learn all you can and ask lots of questions, it will become easier and more routine.
Tricia states, "I really enjoy working with people and helping them through the process of a real estate transaction. This is not something people do on a regular basis, so to be able to walk them through the process and make it smooth as possible for them is what I enjoy most."
For further information, contact:
www.greenridge.com/agents/41688-tricia-carlson
About P.O.W.E.R. (Professional Organization of Women of Excellence Recognized)
P.O.W.E.R is a website as well as a digital and print magazine featuring professional and famous women. Our mission is to provide a powerful network of empowering women who will mentor and inspire each other to be the best they can be. Through our valuable services, our members can collaborate with like-minded professionals, gain recognition and obtain knowledge from those who have already achieved success.