Petkey is Providing Low Cost Microchips and Registration to Those Preparing for Hurricane Florence; 5 Tips to Prepare Your Pet for a Natural Disaster
Steps pet owners can take to keep their pets safe during a natural disaster. Verifying your pet has a microchip and that it is registered and up to date is one of the most important and often overlooked steps.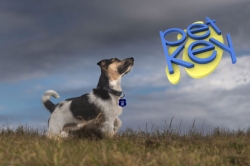 Myrtle Beach, SC, September 12, 2018 --(
PR.com
)-- With hurricane season upon us and the National Weather Service calling for potential category 4 landfalls, it is important we also consider how to prepare our pets in the event of a potential natural disaster. During times of natural disaster, most dogs are accidentally left and lost. Here are five tips to prepare your pet for a natural disaster.
1. Ensure your dog has ID. Making sure your dog's identification tags are on his or her collar is the first step in being prepared. Your dog's identification tag should have your name and cell phone number engraved into it. If your dog gets separated from you, the identification tags are the first place to look. Petkey also includes their 24/7 toll free number so they can be reached in the event of a loss in cell service in your area.
2. Get a Microchip implanted in your pet and ensure that it is registered. In the event of a natural disaster, Petkey hopes that your pet's ID tags stay on them but if they don't there is no way anyone could find the owner. A microchip contains a permanent unique identifier connecting your dog to you. In emergency situations especially, the scanners are out and ready to connect lost pets to their families. If a pet does have a microchip, all of the details you have included in your files are available to the professional who scanned the pet. Getting a chip implanted is just the first step. You also have to ensure all of your contact information is registered accurately in a national registration database. If you are not sure if your pet's chip is registered or if the information is up to date you can check by going to the Universal Microchip Lookup Tool at
http://www.petmicrochiplookup.org
. Simply enter your pet's microchip number there and if it is registered it will show the date it was last updated. If your chip is not showing registered, then Petkey can help you get that taken care of. Call Petkey at 866-699-3463 or go to
www.petkey.org
and use promo code HURRICANE to save $10 off a lifetime registration. At Petkey, registration is immediate, leaving no downtime or gaps in protection.
3. Make the "Uh-Oh" Bag. Creating a "to-go" bag for your pet is another helpful step in preparing for a natural disaster. It is a good idea to have a bag prepared for both home and for your car just in case. The bag should contain a minimum of 5 days worth of food and water. It should also contain photos of your pet and a list of their health history and any medical or behavioral issues (if any). Also, don't forget to pack a few extra collars, leashes and kitty litter (if you have a cat).
4. Pack a Crate. If you need to evacuate your home, don't forget to bring your pet's crate. If you go to an evacuation shelter, most of them do accept pets, but they require dogs and cats to be in crates. Some hotels may also require you to have your pet in a crate. A crate can also help your dog stay calm in the chaos.
5. Find a Pet-Friendly Hotel. It is a good idea to research pet friendly hotels along your potential evacuation route, in the event that an evacuation is necessary.
Contact
Petkey
Nick Acosta
866-699-3463 ext. 117
petkey.org

Contact