BCAGlobal 14th Annual Celebration in Diversity in Food and Wine
BCAGlobal Announces Honorees and Final Round of Menus at Food and Wine Experience; Last Week for Tickets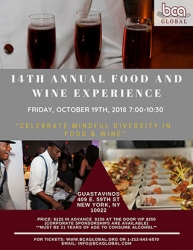 New York, NY, October 17, 2018 --(
PR.com
)-- Building a broader platform for diversity in the culinary and hospitality industries is the spirit behind BCAGlobal's 14th Annual Global Food & Wine Experience that will take place on Friday October 19th at Guastavinos 409 E. 59th Street in NYC from 7 PM to 10:30 PM.
This year's 2018 Vision Award will be presented to Ana Ortega from Empire Merchants. A Native of Colombia, her story of survival and tenacity to build career success in the Wine and Spirit Industry is an example for every young Hispanic woman in America.
The 2018 Jefferson Evans Award in Culinary excellence will be presented to Chef Winston Chiu the Culinary Director of the non-profit, ReThink Food NYC Inc. This innovative organization has taken on the issues of solving hunger and excess food waste.
This important evening is the only event in the country celebrating diversity, using the food and beverage industry as a nexus to bring people together. The realization that the act of sharing and consuming food and beverage has become detached from its traditional cultural contexts has emerged. The purpose is to reconnect food to cultural heritage and the community, through social nourishment in the context of "Enjoying Responsibly."
Final Round Menus Include:
Nadage Fleurimond Catering–NadageFleurimond.com
Organic Pulled Pork with Pickled Red Cabbage & Harissa Vegan Mayo and Scallion, Challah Bread Pudding w/ Kremas Haitian Rum Cream
Mikey Likes It Ice Cream– mikeylikesiticecream.com
Non-Dairy Tropical Ice Cream in Whole Grain Waffle Cone
Blondies Divine Desserts– blondiesdivinedesserts.com
Vegan Sugar Free Banana Pudding Cupcakes, Organic Milk Dark Chocolate Brownies
Tonnie's Minis– tonniesminis.com
Organic Sorted Cupcakes
Mere Viola Sweet Delights– mereviolasinc.com
Fresh Beet Juice Red Velvet Waffles, Sweet Potato Crema Pastiera, Naturally Sweet Fresh Pina Colada Cake
Winston Chiu– rethinkfood.nyc
Vermont Pork Head Cheese Rillettes Salad with Pineapple Tumis Vinaigrette
Soloman & Kuff– solomonandkuff.com
Jerked Chicken Steam Bun, Grilled Skinless Sous Vide Chicken in a Fluffy Bun With Escovitch
Amy Trevino– saltwaterrevival.com
Day Boat Catch with Autumn Root Puree, Puffed Sorghum and Spicy Alliums
Mike Cruz– bronxfoodcoop.com
Boquerón Toast with Grana Pandano, Shallot, Chili Oil and Local Greens
Dennis Williams– southbronx.jobcorps.gov
Wild Caught Jumbo Shrimp Salad with Roasted Asparagus and Wild Mushroom Corn Risotto
Karlton Harris– cornbreadandcaviarinc.com
Pan Seared Coconut Curry Salmon, Squid Ink Braised Barley, Bay Scallop and Pickled Ginger
Chef Jawed Halepota– jawedchef.com
Eggplant and Lentil Kerahi with Coconut Cream and Cilantro, Mint-Collard Pesto atop Basmati
Ron Duprat– ronduprat.com
South African & Haitian potjiekos Confit of Vegetables, Black Rice, and Djondjon
Marc Bynum– instagram.com/chefmarcbynum
Sundried Tomato Waffle w/ "Fried Chicken" Tofu, w/Fig and Vanilla Bean Syrup
Stephen Almond– theassemblage.com
Enoki Mushroom "Pulled Pork" Slider
Danielle Saunders– daniellethechef.com
Collard Green wrapped Sushi Roll, Southern Pickled Veg, Soy Molasses Drizzle & Wasabi Crunch
Cutter Cartier– facebook.com/cutterskitchen
Multi Grain Quiche with Organic Barbecue Chicken and Caramelized Onions; Organic Turkey Meatballs with Parmesan Crisp and Ricotta and Basil; Cutter's Quinoa Macaroni w/Tri-Color Peppers and Smoked Organic Turkey w/Molasses Drizzle.
Kavon William Langley– instagram.com/chefklangley Smoked Venison Carpaccio, Young Vegetable and Grain Casserole, Kampot Pepper, Candied Orange
Janelle Clark– Ptspecailevents@aol.com
Cucumber Cups with Pineapple Salsa, Smoked Cod Fish Crostini over Toasted Coconut Bread
JoAnn Baylor– makemycake.com
Mini Carrot Cake with Caramelized Ginger and Farmers Zucchini and Local Apple Bread Pudding
Lenise Lee-Streeter– lenilenspecialties.com
Lemon Sweet Basil Cupcake, Organic Tequila Mini Cake with Fresh Lime
Sponsor and supporter participants include - Damascus Bakery, Hobart-ITW, Handsome Brook Farms, Palm Bay Wines, Tito's Vodka, Empire Merchants, R.S. Lipman, Sabra, Woodford Reserve and Gentleman Jack Constellation Brands, Remy Cointreau, The Edrington Group, VerTerra Dinnerware
For more information or to inquire about sponsorship opportunities please contact BCAGlobal: info@bcaglobal.org or call (212) 643–6570. To purchase tickets please visit our website at bcaglobal.org. We sincerely hope that you will participate and support this wonderful event. We thank you in advance for assisting us with continuing our mission to advance diversity within the food service industry.
*Last week for tickets.
Contact
BCAGlobal
Alex Askew
212-643-6570
www.bcaglobal.org

Contact