Operose Manufacturing to Acquire 3-D CNC and Expand U.S.-Based Manufacturing Services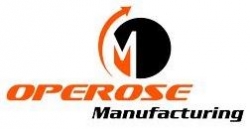 Frederick, CO, January 08, 2019 --(
PR.com
)-- Expanding its services and capacity to meet the growing demand for U.S.-based manufacturing, Operose Manufacturing closed on its acquisition of 3-D CNC on December 28th, 2018. Operose Manufacturing, which provides CNC machined parts with multi-axis programming and machining technologies as well as fully automated production, will enhance the breadth of its high-tech services through the acquisition.
Based in Minnesota, 3-D CNC launched in 1989 and primarily serves customers in the computer, medical, electronic, aerospace and industrial equipment industries with a focus on additional manufacturing services including Wire EDM, Sinker EDM, CNC grinding, heat treating and product/assembly design.
"With this integration, we look forward to delivering more innovation and new technology to our clients while becoming a full-service manufacturer capable of taking products all the way from conception to production," said Tyler Stilson, President, Operose Manufacturing. "We will also be able to help customers streamline their work and enjoy additional efficiencies as we fulfill more requirements."
With more than six decades of machining expertise, Operose Manufacturing employs lean manufacturing processes to design, program and manufacture parts efficiently and effectively, delivering precision parts to companies across a variety of industries, including aerospace, automotive, cutlery, medical, oil and gas, optic technology, semiconductor equipment and many more. From prototype to production, Operose Manufacturing uses state-of-the-art turning and milling combined with the most powerful programming and design software available, as well as robot automation for larger-scale production.
All employees in both companies are expected to be retained through the acquisition.
About Operose Manufacturing
Meeting the growing demand for quality-driven manufacturing in the United States, Operose Manufacturing specializes in precision machining, efficiency in production, and quality parts delivered on time and on budget. With more than six decades' experience in precision manufacturing Operose Manufacturing engages the latest machining technology to service companies across multiple industries. For more information, please visit https://operosemfg.com/
Contact
Operose Manufacturing
Tyler Stilson
303-833-5967
www.operosemfg.com

Contact