Atlanta's Academia of Women's Health Releases Patient's Experience with MonaLisa Touch Laser Therapy
Atlanta gynecologist, Assia Stepanian shares a patient's first-hand account of her decision to pursue treatment with the MonaLisa Touch laser for menopause-related problems.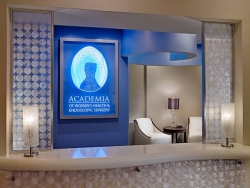 Atlanta, GA, February 13, 2019 --(
PR.com
)--
www.academiawomenshealth.com/too-old-for-romance/
Too Old for Romance? A Patient Recounts Personal Experience with the MonaLisa Touch Laser Treatment.
Dr. Assia Stepanian, a minimally invasive gynecologic (MIG) surgeon, based in Atlanta, Georgia, but recognized the world-over for her inspiring work in gynecology at her practice: Academia of Women's Health & Endoscopic Surgery, is smiling today. The gynecologist just read the first installment of a patient's personal story about her experience with the MonaLisa Touch Laser treatment, and how it changed her love life. www.academiawomenshealth.com/too-old-for-romance/
"As we age and our hormones change, a woman can experience vaginal dryness, atrophy, a condition called Lichens Sclerosis, vulvar and pelvic pain along with incontinence, and pain with intimacy," Dr. Stepanian explained.
The MonaLisa Touch Laser is a fractional CO2 laser technology which stimulates the growth of new, healthy vaginal and vulvar epithelium and collagen production. The results can be a reduction in the surface inflammation of the vagina and vulvar tissue, an increase in natural lubrication, and reduced pain with intimacy. Some patients also experience an improvement in mild urinary incontinence.
The MonaLisa Touch recently came under fire from the FDA because of marketing claims that the procedure could be used to "rejuvenate" the vagina. "A better way to speak of MonaLisa," says Dr. Stepanian, "is that it is designed to help with age-related symptoms of the vagina and vulva," she explained.
Dr. Stepanian says that occasionally patients call for MonaLisa Touch thinking that treatment is possible without a proper gynecologic examination and evaluation of symptoms. Dr. Stepanian, a physician with 25 years of laser experience, explained that the MonaLisa treatment has never been approached that way at Academia.
"Each one of our patients has an examination and I determine her personal condition," explained Dr. Stepanian. During the exam, the physician checks for malignancy or premalignant conditions while evaluating the quality of the vaginal and vulvar tissue. "I only recommend MonaLisa Touch treatment if it is the best course of action," she explained. In the initial blog post, a patient explains why and how her decision was made to undergo treatment with the MonaLisa Touch.
About Dr. Assia Stepanian:
Dr. Stepanian is a board-certified gynecologist and the founder and principal of Atlanta's Academia of Women's Health & Endoscopic Surgery. Dr. Stepanian has more than 25 years of experience using lasers in her gynecologic practice. She had the privilege of being personally trained in Russia by her mother, Dr. Leila Adamyan who created ground-breaking laparoscopic surgeries. Dr. Stepanian teaches internationally. She has served on the Boards of several international Gynecological Organizations, including The American Association of Gynecologic Laparoscopiests. She has chaired and co-chaired multiple courses and educational events. One of her works was presented at The World Health Organization. She served as a visiting professor at Cornell University where she presented "Endoscopic Treatment of MRKH and Mullerian Anomalies" and has authored and co-authored numerous chapters and articles on the topic. She is the founder of SurgeryU which includes the world's first and largest collective, online video library featuring minimally-invasive gynecologic surgery. Together with Professor Adamyan, Dr. Stepanian co-authored the definitive classification of female genital malformations which was accepted by the International Federation of Gynecologists and Obstetricians. Dr. Stepanian can be reached at 404.549.3224 or online at www.AcademaWomensHealth.com.
About the MonaLisa Touch Laser Treatment
MonaLisa Touch is a revolutionary, fractional CO2 laser treatment for certain vaginal and vulvar conditions. It involves three treatments spaced six weeks apart. The treatment takes approximately five minutes, is provided in-office, and is hormone and pain-free. The MonaLisa Touch is an excellent option for cancer survivors, and has been researched extensively with more than 24 scientific published articles.
Contact Debra Hull at 843-816-1194
Contact
Academia of Womens Health & Endoscopic Surgery
Debra Hull
404-549-3224
www.AcademiaWomensHealth.com
Dr. Stepanian is also available for interviews at 404-549-3224.

Contact
Multimedia
A patient shares her experience with the MonaLisa Touch Laser therapy at Atlanta's Academia of Women's Health & Endoscopic Surgery.