Awards: Chief Marketing Officer Chris Moloney and USA Today Network's Vice President Reggie Riley Accept The Gramercy Institute Award for Marketing Partnership for 2019
New York, NY, May 26, 2019 --(
PR.com
)-- The Gramercy Institute recognized CMO Chris Moloney and USA Today Network's Vice President Reggie Riley for their innovative and multi-channel 2019 marketing campaign on financial education for Americans. The highly successful marketing and media campaign received The Gramercy Institute Award for partnership on May 14, 2019 in New York at the top of Times Square in the Carnegie Room at The Reuters Headquarters.
2019 Gramercy Awards winners (pictured) Chris Moloney and Reggie Riley with Bill Wreaks, CEO of The Gramercy Institute.
Location: New York, NY - Carnegie Room at the Reuters Headquarters in Times Square
Winner Profiles: https://www.linkedin.com/in/chrisxmoloney/
Winner Profile: https://www.linkedin.com/in/wjriv/
Gramercy Institute Website: https://www.gramercyinstitute.com/
Photo by Samantha Wreaks
May 14, 2019
Contact
The Gramercy Institute
Samantha Wreaks
212-753-3151
https://www.gramercyinstitute.com

Contact
Multimedia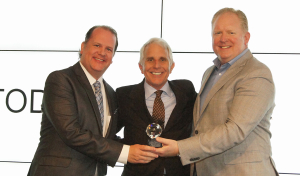 Photo of the Gramercy Institute Awards event features CMO Chris Moloney and VP of The USA Today Network Reggie Riley along with Gramercy Institute CEO Bill Wreaks.