Online Crib Bedding Retailer Courts Today's Computer Savvy Parents with Cutting-Edge Technology
Fairhope, AL, April 03, 2008 --(
PR.com
)-- In an industry first, custom bedding retailer and manufacturer Javis Davis.com is now using hi-tech software developed by Adobe-owned Scene7, giving style conscious moms and dads the ability to design a one-of-a-kind custom crib bedding set right on their desktop.
Eight years ago, when Javis Davis first opened for business, this technology was still in it's infancy. Today, custom product configurators can be found on prime retail websites such as Pottery Barn, Home Depot and Nike, helping consumers visualize and customize their purchases.
"It is imperative that our custom bedding products be available to this generation of 'online' parents in a format they can appreciate," explains Javis Davis owner and founder, Mary Lou Cothran. "Our clients have a distinct vision for their lives, and with a click of a button they can have custom built homes, furniture, handbags, shoes... you name it!"
San Francisco-based web developers, Dayspring Technologies, worked with Javis Davis to create a user interface for the Online Design Studio that was intuitive, functional and attractive. Lead developer Brian Campbell says, "The process is fun and we've already seen many users sending their designs to each other through a built-in sharing feature." Brian adds that he and his wife are expecting their first child in June and have had a great time trying out their own ideas with several of the coordinated fabric collections.
According to Javis Davis design partner, Mary Peyton Peppo, the concept of "limited selection" was key. "With this technology, anything is possible, but studies have shown that when people are presented with unlimited options, they are less satisfied with their final choice." To avoid overwhelming the user with too many choices, Javis Davis designed their collections with six to nine fabrics, and much like the popular Garanimals clothing line, these can mixed and matched with a winning combination every time.
Based in Alabama, Javis Davis, Inc. manufactures custom bedding for babies and kids sold exclusively through the website www.javisdavis.com.
###
For more info visit www.javisdavis.com or call Mary Lou Cothran (251) 929 1530, email: mlc@javisdavis.com
Contact
Javis Davis, Inc.
Mary Lou Cothran
251 929 1530
www.javisdavis.com

Contact
Multimedia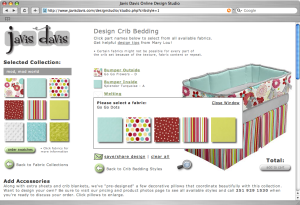 Screenshot of the Javis Davis Online Design Studio for the fabric collection Mod, Mod World.