TN Company Offers SMS Tool for Realtors
Potential homebuyers can get house info through phone text messages.
Nashville, TN, April 08, 2008 --(
PR.com
)-- Potential homebuyers wanting to know more about the home behind the "For Sale" sign in the yard used to have to call the Realtor or hope there was an information sheet on the premises. No more.
A middle TN company now allows Realtors to post text messages and even photos of the home straight to the potential buyer's cell phone.
"You drive by the house, and you want to know more before you even consider calling the real estate company. With RTextUSA, you can dial up basic information and even photos right from your car," said Phillip Poynor, founder and CEO. "The real estate community has enthusiastically embraced our product as an important new tool in communicating with prospective buyers."
The Eagleville, TN.-based company has spent the last 12 months perfecting the technology of the product, and reaching out to area Realtors. RtextUSA launched on March 20, 2008 to wide acclaim.
"We have selected a good price point that enables Realtors to add this feature to their listings without adding a lot to their marketing budget," said Poynor.
RTextUSA offers a 30-day free trial period, which allows brokers and agents to assign up to 100 transferable property codes to numerous property listings.
Nashville Realtor Karen Hoff of Historic & Distinctive Homes and Sales Manager Charles Hughes of Celebration Homes in Franklin have been beta testers over the past four weeks.
"This is a very logical application of text-messaging technology," Hoff said. "It's really appealing to the 20-something generation, and that's a good part of my business. But even older folks are texting these days, and I think a lot of people will be using this service – it should do very well."
Hughes agreed, saying the service will be appealing both to homebuyers and real estate agents. "This is an easy way to generate new business," Hughes said. "RText offers a less invasive means for buyers to access property information."
Also testing for RText were Shelbyville Realtors Josh Simmons and Dorothy Parker.
"We received a lead on one of our listings after only two days using RText," said Simmons of Keller Williams Realty. "We've already taken down our brochure boxes."
"It's very easy to use," added Parker of Exit Celebration Realty & Auction.
Co-founders Poynor, 29, Josh Carney, 29 and Bradley Barrett Jr., 26, have drawn upon their own work experiences in the real estate industry to ensure that the product meets the current needs of Realtors.
About
www.rtextusa.com
:
RtextUSA is a limited liability company based in Eagleville, Tenn. RtextUSA offers two products for Realtors – RtextUSA, which provides home information to prospective buyers through text messages to their cell phones, and, RealPostUSA, an online real estate posting service that provides virtual video tours of homes.
###
Contact
www.RTextUSA.com
Josh Carney
866-579-8398
www.rtextusa.com
JoshC@RTextUSA.com

Contact
Multimedia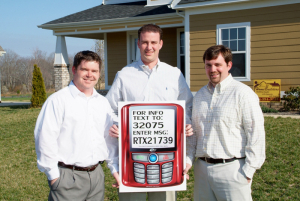 Cofounders from left, are Josh Carney (President), Bradley Barrett (Vice President) & Phillip Poynor (Founder/CEO)