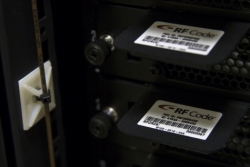 Wallingford, CT, April 09, 2008 --(
PR.com
)-- Queralt LLC, a provider of RFID based visibility and traceability solutions and services, has partnered with RF CODE to provide data center professionals with pilot kits to "test drive," with no risk, its Active RFID enabled Data Center Asset Tracking Solution to solve the expensive problem of identifying and precisely locating rack-mounted assets in large data centers.
This automated asset tracking solution is designed specifically to give data center professionals the on-demand ability to know instantly, at any time, the location of every one of their computing assets. By automating IT asset tracking in the data center, IT managers now can have an instant inventory of all their data center assets. "That's because the solution conducts a complete and accurate inventory every few seconds, as opposed to the weeks it usually takes to inventory assets." mentioned Michael Queralt, Managing Director of Queralt LLC. "It also highlights our commitment to RF Code and its innovative line of products."
"Based on the experience gathered from the multiple RFID active deployments that we have performed, we have developed best practices and we use them to implement the active data center pilots at no risk to the customer." Said John Van Steenburgh, Chief Technology Officer of Queralt LLC "This approach follows on our commitment to take away the complexity of RFID and allow customers to focus on the value that it delivers."
About Queralt LLC.
Queralt LLC helps organizations improve the way they do business by increasing visibility and traceability within their environment. They provide cutting edge auto-identification and data capture products and solutions, utilizing Radio-Frequency Identification (RFID) and barcode technology, plus support services. They offer their services to end-users, original equipment manufacturers, and others looking to utilize auto-identification and traceability solutions. The company's unique business model, combining consulting, hardware, software delivered on a managed service platform provides its customers with the resources and tools necessary to obtain immediate business value.
For more information, visit them at http://www.queraltllc.com or http://www.systemsrx.com.
Queralt LLC, Systems Rx, Queralt LLC. and the Systems Rx logo are trademarks of Queralt LLC. in the United States, other countries, or both. All other products and services mentioned are trademarks of their respective companies.
###