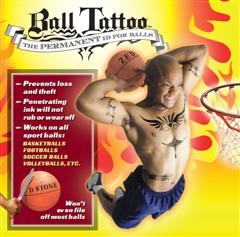 Long Beach, CA, April 17, 2006 --(
PR.com
)-- A California dad's dream, to find a way for his kids and others to tattoo their names on all their athletic balls, is finally a reality.
Now, after more than eight years of development, John Wynne is rolling out his patented invention, called Ball Tattoo, onto the web site (balltattoo.com) and into sporting goods stores across the country. Wynne said, "Ball Tattoo makes it possible for anyone to put their name on all their sport balls with expert results, and do it so permanently that their name will not wear off, rub off or even file off their ball."
"For years people have resorted to using felt-tip markers on balls, but they don't work very well – the name wears off easily and the hand lettering is detracting", Wynne said. " With Ball Tattoo, your name won't ever wear off so it will prevent loss and theft. In addition, the professional lettering looks awesome on any ball!"
Setting out to make his dream a reality, Wynne, a former teacher, photographer, chiropractor and now inventor said, "It didn't take long to realize that I had to develop an entirely new and novel ink from scratch. It had to work on and penetrate every ball on the market, give sharp letters and leave no residual ink on a ball's surface. Top scientists told me it could not be done". Now, after 8 years of development, several patents, and thousand of tests (and ruined balls) later, Wynne has brought his invention to the world and proved the experts wrong. When asked to further explain his Ball Tattoo, Wynne said, "It took over 45 pages of a U.S. Patent to explain, but it's a lot easier to use it. All you really need to know is that it goes on any ball in seconds and stays on forever – with perfect lettering".
Ball Tattoo sells for around $6.95. It comes in a kit and includes simple directions, 1-inch tall stencils, ink and applicator. Simply stick stencils on a ball, apply ink, let dry and remove - that is it. You can do one, two or three balls with one kit depending on letters used. It works on all sport balls such as basketballs, footballs, soccer balls, volleyballs, etc. and on all ball materials: leather, rubber, or synthetics. To purchase or get more information visit www.balltattoo.com
For more info, photos, biography, Q&A sheet, or interview, contact: John Wynne Fastencil Inc. (714) 372-3941 or johnwynne@fastencil.com www.balltattoo.com
###