New Shipyard Electrical Power Distribution Systems Support Safety Requirements for Arc Flash Hazards
ESL Power Systems, Inc. has released a new industrial maritime power distribution product line brochure that addresses arc flash safety solutions for shipyards and dockyards. These custom built electrical products provide workers with greater protection than traditional pin and sleeve devices.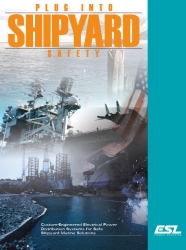 Corona, CA, April 21, 2006 --(
PR.com
)-- ESL Power Systems, Inc. has released a new brochure that addresses how shipyards and dockyards can utilize safety-interlocked maritime electrical distribution systems that provide greater safety and protection from arc flash hazards.
The new brochure, Plug into Shipyard Safety, discusses a broad range of custom built safety-interlocked industrial power distribution systems that are safer than traditional pin and sleeve type equipment. The electrical distribution systems meet NEMA Type 4X and UL requirements while delivering rugged, watertight performance and superior protection for maritime facilities.
"Massive amounts of electrical power are used in the building, repairing and modernizing of ships," said Michael Hellmers, VP Sales for ESL. "OSHA and NFPA 70E require increased user/operator electrical safety regarding arc flash hazards. ESL's safety-interlocked devices are engineered to provide greater operator safety thanks to our unique designs that deliver the perfect combination of increased safety and superb durability in flexible configurations."
"ESL's new Shipyard capabilities brochure is designed to help decision makers involved in the modernization, maintenance, or expansion of industrial maritime facilities choose safer electrical systems," said Carlos Valero, Marketing Manager for ESL. "Today, facilities managers need to upgrade their electrical distribution systems and operator procedures. ESL builds an entire safety-interlocked product line of multi-gang power distribution centers, power outlets, welding and portable spider-box power units, and watertight plugs to help meet these needs."
The company's Web site – www.eslpwr.com – provides additional product specifications for professionals seeking safer solutions for industrial electrical power distribution.
ESL Power Systems, Inc. is a global leader in the design and manufacture of modular safety-interlocked connections. ESL also develops customized power distribution systems for many diverse industrial applications where safety, dependability, and durability are required. For a copy of the Shipyard brochure, call (800) 922-4188.
###
Contact
ESL Power Systems, Inc.
Carlos Valero
951-739-7020
www.eslpwr.com
Ask for our free Shipyard Brochure

Contact