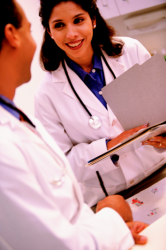 West Caldwell, NJ, April 23, 2006 --(
PR.com
)-- Melissa is undergoing cancer treatment, and she is worried about whether or not it will work. She is receiving chemotherapy. And, although it is great for her cancer, it puts her at increased risk for various problems.
Like many cancer patients, Melissa is concerned about the threat of known side effects such as hair loss, nausea and loss of energy. But, she could also be at risk of developing a fever. A fever could delay her from receiving all of the necessary chemotherapy treatment for her cancer.
Is there a 'mind-bending code hidden in the work' originally done by Leonardo da Vinci, that would apply here, as well? Da Vinci studied medicine and how the brain processes information.
Doctors are able to offer products to reduce the chances of having nausea or of developing a fever during cancer treatment. However, in a busy physician's practice, there are sometimes too many questions to ask the patient. Sometimes the patient's concerns are just not discussed. Sometimes, there is just not enough time to 'uncover the code' which is hidden in the patient's mind.
This is where a new program, a 'Physician Education and Patient Screening Program' or a PE&PS™, comes in. Offered by Health Connexions, these programs allow a physician to screen their patient, before they are seen by the doctor. These tools help identify treatment or therapy options for the patient.
A recent program looked at patients who had not yet been offered a particular treatment. An amazing 39% of all cancer patients who were screened were identified as good candidates to receive treatment. The treatment would reduce their risk of chemotherapy side effects.
Overcoming these challenges in a physician's office, and unraveling the code, is critical to providing better patient care. The PE&PS™ Program provides a simple patient screener and physician assessment form. These tools allow physicians to quickly screen patients for specific problems, and find the right answers.
Additionally, these programs allow physicians to evaluate how they practice medicine. This evaluation allows the physician to qualify for continuing medical education credits. The credits help physicians stay up-to-date on the latest medical advances.
Dawn Van Dam, President of Health Connexions, has said that 'Health Connexions is proud to be able to offer this type of innovative tool to the medical profession. It is important to help provide enhanced patient care and a greater understanding of patient needs. This is a unique way to screen patients and 'crack the code' for better patient care.'
This type of program can help identify the right patient, for the right therapy, at the right time. Therefore, more patients can be provided with the best possible care for their particular problem or disease.
Numerous organizations have sponsored this type of enhanced learning for physicians. This, in turn, provides better health care for patients. Patient associations, diagnostic companies, hospitals, biotech firms and pharmaceutical companies have helped physicians learn how to provide better patient care. This has been done by improving their patient screening techniques with these new tools.
Physicians have been shown to be one of the strongest motivators in changing a patient's behavior. However, the patient's problems must come first. And, to do this, we must understand the patient's concerns, and the 'code' or path to better health care.
###