Matchdoctor.com: Online Dating Meets Social Networking
Matchdoctor.com has merged the essentials of online dating with the perks of social networking. Members get the best of both worlds and the site is free to use.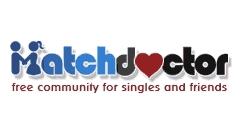 Ft. Lauderdale, FL, April 25, 2006 --(
PR.com
)-- Online Singles, LLC is pioneering the online dating space by combining popular features of social networking sites (such as Myspace, Friendster, and Facebook) with online dating. Major social networking sites have broad user demographics, and the great majority of their users are not seeking love or new relationships, or are teenagers. Sifting through thousands of profiles to find new relationships on a general social networking site is like finding a needle in a haystack.
What makes social networking so popular are features such as friend networks, tagging, blogging, photo albums, and forums (a.k.a. message boards). These features allow people to connect with other people in different ways beyond traditional user search engines. Users of
Matchdoctor.com
can find each other by interests or hobbies and keywords that they enter themselves, rather than checking off predefined responses that are limited in number and may not accurately describe the individual. This allows users to quickly find people with common ground to make faster, stronger connections and relationships with each other.
"Our goal at Matchdoctor.com is to take the niche of social networking and its features and make it dating-centric, opening up new ways to connect people who are looking to date and find new relationships," said Luke Kalish, President of Online Singles, LLC.
Matchdoctor.com is a free online dating site with built-in social networking features. Users can post an in-depth dating profile, upload photos, add tags (a.k.a. keywords), post a blog (online diary), create a network of friends, and participate in forum topics created by other users. Users seeking someone to date can now find each other through new avenues not available before on dating sites, resulting in better quality matches. Blogs and forum posts allow other users to gain insight into a user's personality and opinions, so they can judge if they are a good fit before making contact.
"Think of us as a Myspace, focused on singles," said Jason Tarlowe, CEO of Online Singles, LLC. "Anyone who is unattached should be on Matchdoctor.com. We are free, so you have nothing to lose".
ABOUT MATCHDOCTOR.COM
Online Singles, LLC was founded by Jason Tarlowe and Luke Kalish in 2000. Florida-based Matchdoctor.com began with just a few hundred members, but has grown exponentially since then, recently surpassing the one million member mark. Another affiliated website under the Online Singles, LLC umbrella is http://www.adultmatchdoctor.com for intimate adult dating.
SOURCE Online Singles, LLC
http://www.matchdoctor.com
###
Contact
Online Singles LLC
Cristine Danauy
954-935-9502
www.matchdoctor.com

Contact