Revolutionary New Spark Plug, First in U.S. to Generate Multiple Sparks per Firing, Helps Consumers and Organizations Increase Fuel Mileage by up to 10%, Reduce Emissions
LSG Brisk, LLC, announces a breakthrough in spark plug technology. Introduces the first spark plug in the U.S. that can generate multiple sparks per firing: the LSG Halo. The Halo is currently being used by various organizations including cities, police departments, schools and private enterprises to help lower their fuel costs. This innovative spark plug can help consumers and organizations improve fuel economy by up to 10% while reducing harmful emissions by up to 20%.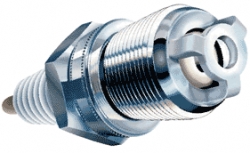 Frisco, TX, April 26, 2006 --(
PR.com
)-- LSG Brisk, LLC, a spark plug manufacturer based in Frisco, Texas, has launched a revolutionary new product that will help consumers and organizations fight back against high gas prices while saving the environment. The LSG Halo is the first spark plug in North America to harness the power of multiple sparks to increase fuel economy and lower harmful emissions.
The Halo features a circular, open-ring ground electrode and cutting-edge firing technology capable of generating multiple sparks per ignition impulse. Unlike multi-electrode spark plugs, which feature multiple spark paths, but only one spark per firing, the Halo generates several sparks per firing, resulting in a more efficient combustion.
This unique, internationally patented design provides optimum access to the spark by the air/fuel mixture, eliminating the "quenching effect" experienced with conventional spark plugs, where the spark is blocked directly by the plug's own side-wire electrode. When the spark ignites the mixture, the flame generated, known as the flame kernel, shoots freely through the open ring, igniting the rest of the fuel mixture, resulting in a quicker, more complete burn of the fuel inside the combustion chamber.
Thanks to this groundbreaking technology, the Halo ignites the air/fuel mixture up to 30% faster than conventional spark plugs, resulting in a more efficient combustion (around 95% versus 75% for standard plugs) and maximum utilization of the energy contained in the fuel. This increased efficiency will help consumers and organizations save up to 10% on fuel costs, improve engine performance, and lower harmful emissions such as Hydrocarbons, Carbon Monoxide, and Oxides of Nitrogen (Nox) by as much as 20%.
One of the first organizations to experience the benefits of the LSG Halo Spark Plug was the City of Little Rock, Arkansas. Darryl Syler, the city's Fleet Maintenance Manager, decided to conduct a trial on the city's Police Fleet to see how the Halo would perform. He had the spark plugs installed on 12 Ford Crown Victoria Police Cruisers and field-tested for about four months. To ensure the accuracy of the results, a blind test was performed. When the results were in, the City of Little Rock concluded that the Halo Spark Plugs improved their fuel economy by an average of 11.5%. The improvement in fuel economy ranged from 9.1% to 13.5%. This was even better than what LSG BRISK had projected.
Mr. Syler later indicated, "how pleased we are with the results that we have had with the Halo plugs that we have been running in our Ford Crown Victoria Police Cars. They have really produced great numbers on the fuel mileage. I look forward to continued success with the Halo plugs and I would recommend them to anyone that inquires. We have seen an 11.5% increase in fuel mileage, and as fuel prices go up, this is going to be a tremendous help in cutting our fuel costs."
Based on the positive results they achieved on the trial, the City of Little Rock has decided to retrofit their entire fleet with the LSG Halo Spark Plugs. Thanks to the efforts of Mr. Syler and his team in the Fleet Maintenance Department, the City of Little Rock will save approximately $225,000 annually on their fuel costs and as gas prices go up their savings will be even higher.
"We are extremely pleased with the results obtained by the City of Little Rock and look forward to working with such a fine organization to help lower their fuel costs. The LSG Halo Spark Plugs will also reduce harmful emissions by up to 20%, allowing the city to contribute towards a cleaner and healthier environment," highlighted Grahame Rance, CEO of LSG BRISK.
Since then, other organizations have tested the Halo in their fleets with equally successful results. The City of Hot Springs, AR performed a trial on their Police and Public Works vehicles, resulting in an average savings of 10.8% in fuel economy. Another trial involved the McKinney Independent School District in McKinney, Texas, which tested the Halo on vehicles used by the building maintenance staff. They achieved an average of 22% improvement in fuel economy. Both organizations have decided to deploy the Halo in their fleets to help lower fuel costs and reduce harmful emissions.
The positive results from these and other trials have generated great interest from various organizations across North America looking to improve the efficiency and profitability of their fleets. "The high cost of gas is having a negative impact on many organizations and they are looking to us to provide a cost-effective solution," commented Mr. Rance. LSG BRISK is currently working with several organizations in both the U.S. and Canada, representing a broad range of industries from both the public and private sectors.
Over the last few months, consumers have also had to bear the burden of skyrocketing gas prices, while the oil companies raked in record profits. With the LSG Halo, consumers can now fight back against high gas prices by maximizing their fuel economy and keeping more of their hard-earned money.
Many of them have written to describe their experience with the Halo and express their appreciation. One of them was Dr. Richard F. Jacobs, M.D., from Little Rock, Arkansas, who wrote, "... thank you for providing Halo spark plugs for my 1999 Chevrolet Tahoe and 1991 Lexus. The emissions testing on both of these automobiles has been very impressive... although these cars were relatively clean as it relates to emissions, the installation of Halo spark plugs reduced the pollution emissions beyond my imagination. We need Halo spark plugs in every car in America. This would provide for a substantial reduction in pollution from internal combustion engines and lead to cleaner air and better health for Americans. As an added bonus, our gasoline mileage has increased on the order of 15-20% since switching to Halo plugs. The cars drive better with better acceleration and improved gasoline mileage. This is really impressive."
Although the company expects consumers to save up to 10% on fuel costs, many of their customers are experiencing even better results. "Many of our customers with 8 cylinder vehicles are achieving 12% to 15% improvement in fuel economy. This has surpassed our expectations and we are very pleased with the Halo's performance. It's very rewarding to be able to help consumers to save money at the pump and give them some control over high gas prices," remarked Mr. Rance.
About LSG BRISK
LSG BRISK is an innovative, forward-thinking automotive parts company, specializing in the development, manufacturing, and marketing of environmentally friendly and cost-effective solutions that improve fuel economy and protect the environment. For more information, including a video of the Halo's Firing Technology in action, please visit our website at www.lsgbrisk.com or www.haloplugusa.com.
Media Contact:
Ram Mistry
Vice President of Marketing
LSG BRISK, LLC
(214) 504-1760
###
Contact
LSG BRISK, LLC
Ram Mistry
214-504-1760
www.lsgbrisk.com
www.haloplugusa.com

Contact