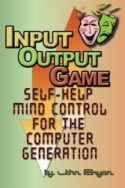 Big Bear Lake, CA, February 06, 2013 --(
PR.com
)-- Input Output Game - Self help Mind Control for the Computer Generation
The mind being computer-like may seem far-fetched to some. In these few chapters, John Bryan shows you how he changed the course of his life and found love, health, happiness, and financial success.
This book is Dedicated to everyone who is tired of being a puppet on a string in the dance of life and when you change your belief system, you change your life. The very idea of self-help mind control may seem difficult. However, consider the alternative; living an out-of-control life, or even following another's concept of how you should live your life.
Showing us how to develop our own internal "Random Access Memory" to use when confronted with a stressful situation. Following the principals outlined in this very readable book, a reader automatically searches their newly developed memory with the speed of a highly developed RAM and pulls up the "affirmations" loaded into our internal RAM, which provides instant guidance to resolve stressful decisions in a positive manner.
John Bryan knows a lot about living as a human being (30 years on a Bar stool), and he shares it with his powerful Tour de Force book. It is an owner's manual for the mind containing 19 specific and simple affirmations designed to reshape our thoughts and emotions for maximum benefit. If you're ready to begin or augment a daily program of self mastery, then this is the text for you.
"Thank you John for putting this out for all to benefit. I am thrilled to be reading and applying it to my current program of recovery through faith and self mastery," one reader wrote.
http://inputoutputgame.com