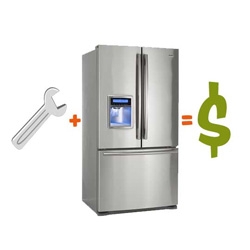 Los Angeles, CA, February 15, 2013 --(
PR.com
)-- In this day and age it's nearly impossible to go through life without the use of a good refrigerator. When your refrigerator stops working you're going to find you spend a fortune on food and will throw a considerable amount of it out because you don't have a good way to keep it from spoiling. AmeriPro Appliance Repair doesn't want you to ever worry about how you're going to prevent your food from spoiling which is why they have decided to implement a yearly refrigerator maintenance program. You won't believe how much easier this will make your life. Not only will this help keep your refrigerator working at its best, it will also save you money on energy costs and keep you from having to call for
refrigerator repair services
.
One of the things AmeriPro
appliance repair
technicians have commented on over and over again is that many of the emergency repairs they've been enlisted to make could have been prevented with a good maintenance program. AmeriPro Appliance Repair hopes that their yearly maintenance for refrigerators program will encourage both homeowners and business owners in the area to care for their appliance and have an appliance repair technician out at least once a year. The single service call will cost less than an emergency repair call and will also spare you the anxiety of discovering your refrigerator has stopped working. When you use AmeriPro Appliance Repair's yearly maintenance for refrigerators program there's a good chance you'll never encounter a broken refrigerator every again.
AmeriPro's newly implemented yearly maintenance for refrigerators program won't just save users the cost of an emergency repair bill, it will also lower the amount of money spent on monthly utility bills. Most people don't even realize that the refrigerator isn't working properly, however they will notice an increase in their utility bills. Broken and worn parts, as well as parts that have gotten covered by a layer of dust and pet hair cause your appliance to use a great deal more energy than they should. This will be one of the things the yearly maintenance program will help with. The AmeriPro tech will examine the unit and replace the worn parts with top quality replacement part and make sure all of the inner workings have been cleaned. This regular work will keep the utility bills low and your refrigerator running at peak efficiency.
At AmeriPro Appliance Repair they take pride in the fact that they can repair all makes and models of refrigerators. AmeriPro Appliance Repair has every intention of providing year round maintenance on the following brands:
Scottsman
Traulsen
Viking
Frigidaire
LG
Whirlpool
Sub Zero
Thermador
Jenn-Air
GE Monogram
KitchenAid
When you contact AmeriPro you can rest assured you will be treated to the absolute best possible service you have ever received. AmeriPro hires the best refrigeration experts in the business and use only top quality parts. Best of all, the yearly maintenance for refrigerators will be very affordable and they stand behind their work. Call AmeriPro today at (800) 657-0765 or visit at http://www.ameriproappliancerepair.com/ to get started.