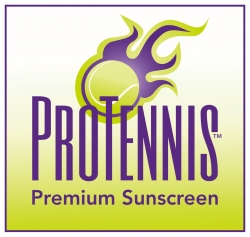 San Jose, CA, February 28, 2013 --(
PR.com
)-- Pro Sun Products based in San Jose, California is pleased to announce Pro Tennis™ Premium Sunscreen a high quality sunscreen designed for avid tennis players of all ages. Pro Tennis offers a silky smooth lotion made with pure natural aloe and rich moisturizers that maintain the skin's natural moisture balance while protecting against undesirable sun damage. The natural aloe-based formula moisturizes and soothes the skin and allows the body to cool itself naturally and perspire, as opposed to wax or film based alternatives.
"Our goal is to provide tennis specialty retailers and pro shops with the highest quality sunscreen designed specifically for tennis and available at an affordable price," says Robert Spurzem, President of Pro Sun Products. "We believe that tennis players deserve the highest quality in every tennis product they select and sunscreen is no exception. Pro Tennis fills an important product gap in every tennis retail store."
With an SPF of 30, Pro Tennis provides broad spectrum protection for both UVA and UVB rays based on the 2012 FDA regulations. Pro Tennis will not sweat off or wash off easily in water and is fragrance free. All of the active and inactive ingredients used by Pro Tennis Premium Sunscreen are approved by the 2012 FDA regulations and have been thoroughly tested according to strict FDA standards. It comes in a convenient 100ml size that fits easily in any tennis bag and is compliant with airline travel restrictions.
Customer Quotes
"Over the years I have tried literally hundreds of sunscreens and I found Pro Tennis to be one of the best," says Ken Dehart, Director of Tennis, Almaden Valley Athletic Club, San Jose, CA. "I love to see new tennis products and I am pleased to recommend Pro Tennis Premium Sunscreen."
"I was initially attracted to Pro Tennis for its light texture and how it quickly absorbed into my skin," says Debb Roberts, Owner of Debb's Tennis of Los Gatos, CA. "I cater to female tennis players so it was important that it worked so well with women's make-up."
"All tennis players require sun protection and they enjoy having a quality sunscreen product available alongside all their favorite tennis equipment and apparel," says Anthony Paz, Owner of The Tennis Station, Burlingame, CA. "Pro Tennis has quickly become a hit with my customers."
For more information, visit www.prosunproducts.biz or contact info@prosunproducts.biz.
Press Contact
Robert Spurzem
(408) 464-5191
Robert.spurzem@prosunproducts.biz