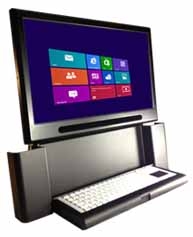 Chicago, IL, March 02, 2013 --(
PR.com
)-- Originatic's SmartLeaf Solutions division has partnered with Avalue Technologies to offer the Avalue-SL Medical Computer System, a compact, wall-mountable medical computer with touch and a foldout medical keyboard. The system is targeted for applications in lobbies, waiting rooms, exam rooms, nurse stations and labs.
The system's features include a 21" HD display, water-sealed front panel (IP65), resistive touchscreen operable with or without gloves, and Intel® Core i5-520E 2.4GHz processor. The medical foldout keyboard is lockable and has a white color, 90-keys, integrated touchpad, 100% waterproofing & spillproofing (IP68 & NEMA 4X), a washable, fully submersible design, antimicrobial and LED-backlighting. For durability, the system has an all-steel chassis with a stainless steel foldout kickstand.
Avalue will display the Avalue-SL Medical Computer System at Avalue's booth 3886 at the HIMSS Annual Conference & Exhibition from March 3-7, 2013 in New Orleans.
Originatic LLC, through its SmartLeaf Solutions division, develops, manufactures and sells computer solutions to an array of industries, including healthcare, education, event management, hospitality, municipality and logistics industries. The SmartLeaf Solutions division offers all-in-one computer systems with foldout keyboards, including systems powered by HP, Dell, Avalue and other brands. The SmartLeaf Solutions division also offers computer and monitor accessories, including its Smart-Leaf Cradle with foldout keyboard. Originatic builds strategic partnerships to deliver enhanced computing utility, performance and reliability for its customers. Originatic is a limited liability company, headquartered in Chicago, Illinois.