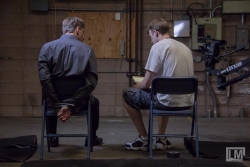 San Francisco, CA, March 08, 2013 --(
PR.com
)-- Irish-American actor Richie Stephens continues his momentum of 2012 into the new year with the release of "Credence," a short gangster drama piece that brings to life the world of professional hitmen. Directed by Weston Simpson and produced by Kristine Lowe. Credence, also starring James Maher, Phil Grasso and Michael Hillebrand will premiere on Thursday March 28th, 7pm at Camera 12 Cinema in San Jose, CA. Tickets can be purchased here: http://www.brownpapertickets.com/event/345177.
Richie capped off 2012 with over 20 other projects and will be playing another villain in the forthcoming feature "The Shop," being released next summer and co-starring Tiffany Pollard from "I Love New York." He is also putting the finishing touches on "Selling Dreams," created by local director, comedian and talk-show host Pharoah Powell. Richie stars alongside East-Oakland rap artist and producer J. Dandridge and his regular cohort Jonez Cain. Richie and Jonez also worked together on "The Shop," Sundance winner "Fruitvale" and Bollywood hit "Rey."
Richie has since moved to Los Angeles "to get to the next step in my career" and has settled in well. He has worked on a pilot and has completed an interesting docu-drama with Roger Stoneburner and Patrick Roberts. He is currently working on developing a true-crime biopic feature of one of Britain's best-known crime bosses. "I can't say much about it at this stage, but it is a very exciting prospect."
Richie is represented in San Francisco by Marla Dell Talent.
You can read more about Richie on IMDB and his personal website.
www.imdb.me/richiestephens
www.richiestephens.com