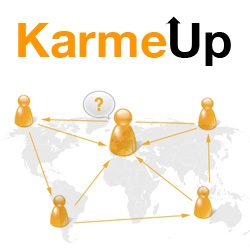 Huelva, Spain, March 23, 2013 --(
PR.com
)-- The internet has definitely changed the world and how people interact with each other. In recent years we have seen the rise of social media in its many versions along with all kinds of great ideas that came to offer solutions to various shortcomings, such as fundraising sites designed to develop personal or business projects.
Developers or entrepreneurs sometimes don't have either the funds or the necessary assistance required to develop that great idea they want to realize. KarmeUp aims to resolve part of this problem and help realize their ideas.
KarmeUp's goal is not to raise funds for projects or ideas, for that there are many well established websites that do the job perfectly. The goal is to create a global collaborative network where users help each other to develop their ideas, each assisting others within their areas of knowledge and/or expertise. KarmeUp is intended to be a comprehensive network in which people do not need money to develop their ideas, projects or companies.
It is based on friendly and mutual aid, and is governed by the concept of "Karma" to prevent abuse. When a user creates a request for assistance, they offer reward points that will be received by the person who helps. This will help prevent the abuse of good faith and willingness to help others. Karma points are needed to get help, Karma points are obtained by giving help. This maintains the balance between support received and provided.
KarmeUp serves to link all those who need help for a project to those who want to help, and looks forward to a future where collaboration via the exchange of mutual aid will help people to realize their ideas and goals.