Xanadu Catalina 5K Health & Wellness Festival September 20th-22nd 2013 – Santa Catalina Island Benefiting the Outdoor Discovery School Foundation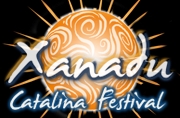 Santa Catalina Island, CA, August 21, 2013 --(
PR.com
)-- What: Xanadu will offer its guests Health & Fitness Workshops, Yoga & Meditation Classes, as well as a wide variety of recreational activities such as Stand-Up Paddle Boarding, Volleyball, Scuba Diving, Snorkeling, Kayaking, Mountain Biking, Hiking, Frisbee Golf, and Yoga. Attendees of the festival will also be able to enjoy live music, yacht parties, local vendors, and camping under the stars.
On Saturday, the festival will feature a swimsuit themed 5K Island Fun Run followed by a post-race BBQ Party, Sunset DJ Sets, and Moonlight Dance Party for all participants. The EC Twins, DJ Savi, Tara Brooks, Emanuella, Danny Olsen, Party Favor, and Aaron Colbert are scheduled to perform.
When: Friday, Saturday, and Sunday, September 20, 21, & 22, 2013
Departure: 9:30 AM Friday, September 20, 2013
Return: 1:15 PM Sunday, September 22, 2013
Where: Brisa Del Mar Yacht Club, Two Harbors, Santa Catalina Island, CA
Catalina Express – San Pedro will provide transportation via ferry to the venue.
Parking: Catalina Express Terminal, 95 Berth San Pedro, CA 90731
24 hour parking available for $12
Tickets: Tickets on Sale now – Roundtrip Camping Package Pre-Sale $250
Island Adventure Day Trip Pre-Sale $100
VIP Scuba Diving, Kayaking, and Helicopter Tour Packages also available
Ticket Pricing, Package Details, Purchase Tickets Online: www.xanaducatalina.com/tickets
Corporate Partners/Sponsor Registration:
Call Alex Calkins at (208) 819-8895 or email Alex at alex@xanaducatalina.com
Workshops:
· Friday Sunset Yoga @ Brisa Del Mar Beach with Heidi Hong
· Saturday Island Sunrise Yoga w/ music by ThereExists
· Urban Zen Yoga with Hazel Patterson
· Kickboxing Crossfit Bootcamp by SexyNinjaShape
· AcroYoga & Inversions Workshop by Teri Mannello
· Xanadu HoopDance Workshops by Morgan Jenkins & Rebecca Victoria
· Food as Medicine "Ted Talk" by Dr. Garrett Wdowin
· SUP Partner Yoga with Heidi Hong
· Pre-Run Pump-up Warm-up with Ibok Ibokulus & Sexy Ninja Shape
· Sunday Sunrise Yoga Hike to Ballast Point with Alex Calkins
Yogis, speakers, workshops and other participating artists will be announced in the coming weeks.
Why: Helping to create an environment that will inspire awareness of health and a sense of well-being. Promote health, fitness, community and outdoor education.
Xanadu Catalina is proud to work with the Outdoor Discovery School Foundation (ODS) to promote Outdoor Experiential Education. Proceeds from the event will directly provide funds to allow youth throughout Southern California to participate in Outdoor Education Programs in their schools, local communities, and Catalina Island. Learn more at www.ODSfoundation.org
For more information about Xanadu Catalina, visit www.xanaducatalina.com, follow Xanadu Catalina on Twitter www.twitter.com/lumativ, or like the Xanadu Catalina fan page on Facebook www.facebook.com/xanaducatalina.
About Outdoor Discovery School Foundation (ODS)
The Outdoor Discovery School Foundation seeks to provide youth and adults with positive experiences in nature that promote Physical Fitness, Emotional Wellness, Leadership, Service and Community.
The foundation believes that creating stimulating and integrative environments will encourage a culture of passionately curious learners and adventure seekers by nurturing the whole self (mind, body & soul) to become conscious individuals.
ODS is a nonprofit organization centered on bringing awareness to issues currently facing youth including: Understanding & appreciation of nature; How to recreate safely, Fitness, Imagination, Creativity, Leadership, and Peer Mentoring.