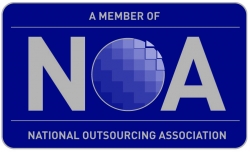 London, United Kingdom, August 23, 2013 --(
PR.com
)-- SaM Solutions, a leading European provider of software development and consulting services, announces its membership in the National Outsourcing Association, Britain's most renowned outsourcing organization that unites professionals and companies to provide fertile grounds for their interaction, collaboration and business development.
For SaM Solutions and its British subsidiary SaMSol UK, joining the NOA is a strategic step towards increasing presence in the UK, offering customers more flexibility in legal and operational aspects of project delivery and boosting brand awareness on this market.
SaM Solutions has a long record of delivering software solutions to British customers in various industries, from media and publishing to travel and IT. Further development and growth of the local office and active participation in the NOA's events and activities will help SaM Solutions get a better understanding of the outsourcing market in the UK and share its multi-year experience of delivering large and complex solutions to major clients on the continent.
"It would be an understatement to say that we are just glad to become a NOA member. We see this as an exciting opportunity to explore the potential of the UK market, meet colleagues and potential customers, follow local trends, as well as to offer the best of our experience and know-how in new challenging projects," commented Sergei Rabotai, Managing Director of SaMSol UK.
About SaM Solutions
SaM Solutions is one of the leaders of the IT outsourcing and embedded software development market. 20 years of experience, a broad range of competencies and a DIN EN ISO 9001 certified quality control system enable the company to develop solutions of any complexity that meet customers' expectations and use the latest software development technologies.
SaM Solutions has worked for such major internationals as Siemens, Fujitsu, IBM and Kaspersky Lab, public organizations, such as the European Patent Office, and mid-sized companies, such as Haufe-Lexware or azh GmbH.
To date, SaM Solutions has a growing global pool of IT talents in its Minsk-based primary delivery center, the Germany-based headquarters and offices located in the U.S., Eastern and Western Europe.
About the NOA
The National Outsourcing Association (NOA) was founded in the United Kingdom in 1987 by Martyn Hart. The organization was the first European association to promote effective outsourcing and it is the parent of the federal European outsourcing association.
The NOA operates as a not-for-profit trade association and aims to promote best practice in outsourcing, lobbying government and regulators, and provide research and information to companies and managers using outsourcing. The NOA has developed Pathway, a university accredited professional development qualification for the UK's outsourcing industry.
The NOA includes the OUT Group, as the commercial arm of the NOA which was created in 2004. The NOA are also associated with sourcingfocus.com, a leading online news resource portal for the sourcing community.