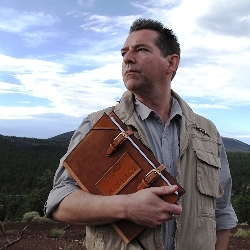 Tucson, AZ, August 27, 2013 --(
PR.com
)-- Geoff Notkin, who starred for three seasons on the Science Channel television series Meteorite Men, has been selected to serve as the new host of the Cox 7 TV series STEM Journals.
A production of the award-winning team at Cox Creative Studios, STEM Journals is a fast-paced educational program filmed on location throughout Arizona. On each episode, Notkin will take viewers along as he visits intriguing sites across the state, discovering the latest happenings in science, technology, engineering, and math (STEM) and exploring myriad STEM-related careers.
Filming for the new season is currently underway. The first episode will air on Sunday, October 20, 2013 on Cox 7. In Arizona, the program airs on Cox channels 7 and 1007 every Thursday and Sunday at 6:30 p.m., and is also available on Cox Digital On DEMAND channel 2640, and the Cox7 iOS & Android apps.
Full episodes and video clips will also be available for viewing worldwide on www.cox7.com. Follow @STEMJournals on twitter for the latest updates.
"I am thrilled to be part of this engaging series that appeals to teachers and students alike," said Notkin. "STEM Journals demonstrates what can be accomplished when caring professionals work together to produce modern and topical educational programming. We are not just presenting science, technology, engineering, and math-related stories; we are showing young people how they themselves can pursue rewarding STEM careers."
During this season of STEM Journals, Notkin will be supporting the mission of Beads of Courage, Inc., an Arizona-based nonprofit dedicated to transforming the treatment experience for children coping with serious illness through innovative Arts-in-Medicine Programs.
Throughout filming, Geoff has made a commitment to Carry a Bead(SM) that will be packaged with a personalized, autographed note of encouragement and given to a child who receives the Beads of Courage Program during their treatment journey. It is expected that 80 children will receive a bead and autographed note card this season.
For more information on the Beads of Courage, visit www.beadsofcourage.org.
"Cox is proud to feature the Beads of Courage program in our STEM Journals series on Cox 7," said Fran Mallace, Vice President of Cox Media. "Entering our second season, with new host Geoff Notkin, STEM Journals will continue to serve as a wonderful vehicle for exposing viewers to unique programs happening in our community."
Media wishing to interview Geoff Notkin are asked to contact Becca Gladden, Public Relations Director, at limelightwriting@aol.com.
Source: Aerolite Meteorites Public Relations
About Geoff Notkin: A television host, professional meteorite hunter, science writer, photographer, and owner of Aerolite Meteorites, Geoff starred for three seasons on Science Channel's award-winning TV show, Meteorite Men, and now serves as host of the TV series STEM Journals on Cox 7.
He has also made documentaries for National Geographic, Discovery, PBS, BBC, History Channel, A&E, and Travel Channel. He has written more than 150 published articles on meteoritics, paleontology, adventure travel, history, and the arts.
The minor planet 132904, discovered at Mount Palomar, was named "Notkin" and approved by the Minor Planet Center in recognition of Geoff's contributions to science and education.