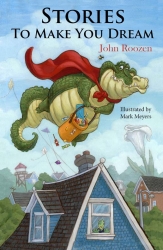 Bailey, CO, August 30, 2013 --(
PR.com
)-- Book: Stories To Make You Dream
Author: John Roozen
Publisher: Windoggle Publishing
Children's bedtime can be a wonderful bonding tradition, a simple regimen, or a nightmare. After brushing teeth and goodnight kisses, the most notable ritual is the nightly entertainment - the bedtime story.
What makes a successful bedtime story?
* Was the book easy to choose, with consensus among your kids?
* Was every age group entertained?
* Were the listeners drawn in, quiet, and engrossed?
* Did the story spark imagination, leaving kids with plenty of ideas to ponder as they go off to sleep?
* Was everyone so satisfied that nobody asked for another story? One can only hope.
* Did the story leave room for follow-up conversation?
* Was the story of reasonable length to make it manageable for parents and kids alike?
Stories to Make You Dream, the new book by John Roozen, includes seven stories, each about 20 minutes long, each with a new cast of characters and setting, and each striving for a successful night's end.
"Over the years I told so many stories to my kids," John Roozen said, and found that they liked a fast pace and the closure of a single story. "I prefer children as the main characters, putting them in situations that we all can imagine. Stretching the probabilities or a bit of the supernatural adds pizazz to the story and sparks imagination. Quiet times reading or making up stories for my two children were some of the best moments of my life and I hope for theirs as well."
Economically priced with a week's worth of stories, this book encourages the bedtime story tradition. Stories are contemporary and pushing children to visualize and explore the what-ifs of each storyline. Characters are often both humorous and thoughtful, with challenging situations to navigate.
Full Contact Information:
Contact: John Roozen
Phone: 303-838-3634
Email: JohnRoozen@windoggle.com
URL: www.windoggle.com
Address: 27 Pinecrest Circle Bailey, Colorado 80421
Book Details:
Free eBook: http://www.windoggle.com/friends.html
Availability: Softcover and eBook
Amazon.com, bn.com, and other online retailers
App and eStores for Kindle, Nook, Kobo, iPad, and more
Pages: 122 pages
Ages: 4-10
Price: $7.95 (softcover); $4.95 eBook
Stories: Seven 20 minute stories
Author: John Roozen
Illustrator: Mark Meyers
Color cover and b&w interior
Publisher: Windoggle Publishing
ISBN: 978-0-615-64557-5
Size: 5.25 x 8
Download cover and author images from: http://www.windoggle.com/friends.html