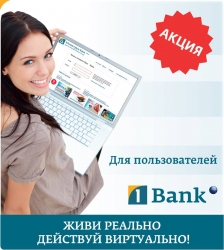 Moscow, Russia, September 09, 2013 --(
PR.com
)-- More than 300 Uniastrum Bank customers have had cash-back transferred to their mobile phone accounts as part of the lender's "Real life, virtual action!" special offer, which ran this June and July. Besides cash payments, 300 of them are set to receive gift cards for use at L'Etoile perfume and cosmetics boutiques.
For the duration of the promotion, the number of payments for services transacted using Uniastrum's online banking facility 1Bank rose 24%, while total payments increased 33%. The results show that customers tend most of all to use the facility to pay for mobile phone and public utility services. While the promo lasted, more than 40% of payments were to the "Big-3" cellphone carriers, and public utility companies.
"People tend to use our online banking system 1Bank to pay for a whole range of services for the simple reason that's it's so practical and convenient," notes Roman Glazov, supervisor of Uniastrum's Marketing and Analysis Department. "Moving forward, we plan to run similar promotions, not least because they're a wonderful way for clients to find out more about modern ways of paying for services, including e-banking channels, make for long-lasting Bank-customer relationships, and, last but not least, offer them an opportunity to gain additional bonuses."
Uniastrum's "Real life, virtual action!" offer ran from June 1 to July 31, 2013 and was open to anyone using its online banking facility 1Bank. Under the terms of the promo, Uniastrum returned 0.5% of the total payments made to service providers by transferring the amount to the respective customer's mobile phone account. To take part, customers were asked to use 1Bank to pay for services totaling a minimum of Rb 2,000.