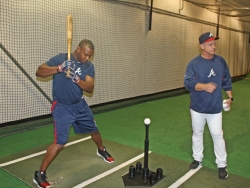 Stoughton, MA, September 10, 2013 --(
PR.com
)-- In honor of the 30th anniversary of the Franklin Sports batting glove, the company took the show on the road. The official batting glove of major league baseball and its "Learn From a Pro" clinic stopped at 18 different MLB ballparks throughout the summer. Each clinic was led by a Franklin Sports Pro and the team hitting coach, and featured an intimate hitting clinic, tips and tricks of the game, and a Q & A session - all in front of a few lucky winners from the local area.
The "Learn From a Pro" program was part of a six-month enter-to-win contest attached to their batting gloves. Each market hosted 25 lucky winners and their guests to attend the unique clinics, meet the players, and attend the game later that evening.
The promotional tour included MLB stars Dustin Pedroia, Justin Upton, Justin Morneau, Alex Rios and more. Full list of players and dates:
June 26th: Detroit Tigers, Don Kelly
June 27th: Baltimore Orioles, J.J. Hardy
July 2nd: Pittsburgh Pirates, Michael McKenry
July 3rd: Texas Rangers, David Murphy
July 8th: Milwaukee Brewers, Rickie Weeks
July 9th: Seattle Mariners, Endy Chavez
July 10th: Arizona Diamondbacks, Paul Goldschmidt
July 22nd: New York Mets, Daniel Murphy
July 24th: Boston Red Sox, Dustin Pedroia
July 26th: Los Angeles Dodgers, A.J. Ellis
July 29th: Oakland A's, Josh Reddick
July 31st: Atlanta Braves, Justin Upton
August 6th: St. Louis Cardinals, Daniel Descalso
August 7th: Chicago White Sox, Alex Rios
August 12th: Colorado Rockies, Tyler Colvin
August 13th: Minnesota Twins, Justin Morneau
August 23rd: Cincinnati Reds, Zack Cozart
August 27th: Tampa Bay Rays, Kelly Johnson
Franklin Sports is a family owned and operated company based out of Stoughton, MA. They are a leader in manufacturing of sporting goods products and their products are sold at Wal-Mart, Dick's Sporting Goods, Toys R' Us, and other national retailers.