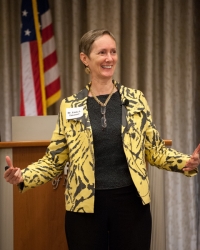 New York, NY, October 01, 2013 --(
PR.com
)-- Plaza Jewish Community Chapel recently presented their 14th Bereavement Conference, "The Cross Section of Medicine and Spiritual Needs" with Dr. Linda Emanuel as keynote speaker. The all-day conference included 8 workshops on topics including "Interweaving Spirituality and Religion with the Dying Patient" and "Comfort and Meaning: The Spiritual Dimensions of Aging." Stephanie Garry, Director of Community Relations for Plaza Jewish says "These workshops provide a venue for our attendees to interact with our presenters, gain valuable insights into the issues and network with their peers."
The conference was attended by 150 and was geared to Clergy and Chaplains. "Plaza Jewish understands that the funeral is not the end of the grieving process. It is just the beginning. We, at Plaza Jewish believe that it is incumbent upon us to explore various issues surrounding the loss of loved ones, within the Community we serve" said Stephanie Garry. Collectively, over 1500 professionals and lay leaders have attended Plaza's conferences since 2001.
In addition to their Bereavement Conferences, Plaza Jewish also offers ongoing programs for the community including "Talking to Children about death" for parents of young children, "Jewish Burial 101" for Intro to Judaism class, and "Getting your house in Order" for adults in the community.
About Plaza Jewish Community Chapel:
Plaza Jewish Community Chapel, a 501(c) (3) non-profit organization, and the only communally owned and operated Jewish funeral chapel in the metro New York area, was created 13 years ago with funds from UJA Federation, The Jewish Communal Fund and philanthropists. Their mission is to ensure that every member of the Jewish community receive a dignified Jewish burial and to provide bereavement support to those in need. Plaza's prices are dramatically less than the local competition. Plaza Jewish was the first funeral chapel in New York to stream funerals for those who are unable to attend and most importantly, Plaza prides itself on being community minded not profit driven. Visit
www.plazajewish.org
to find out more or call 212-769-4400.