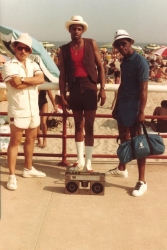 Newark, NJ, October 03, 2013 --(
PR.com
)-- HYCIDE, a groundbreaking photojournalism and arts magazine, celebrates its second-year anniversary with a launch party for The Golden Triangle issue—which features the work of three acclaimed street photographers—at Aljira, a Contemporary Arts Center on October 18 at 6 p.m.
HYCIDE's sixth issue showcases images by renowned photographer Jamel Shabazz of Brooklyn; Akintola Hanif, the Newark-based editor-in-chief of HYCIDE; and Nema Etebar of Philadelphia.
"Collectively, we represent not only three unique generations, but three men based in three major cities who are bound by our love of humanity and desire to contribute to the preservation of a rich heritage and culture,'' says Shabazz, author of the iconic book Back in the Days, which documents the style of the world's first hip-hop fans and New York City youth of the 1980s. "The camera has served as the compass that has guided us on our journey and allowed our paths to connect."
The Golden Triangle is a mix of personal stories and images that explore the experiences of both its subjects and photographers. It examines themes of empathy, dignity, struggle and conflict -- and the potential for photography to bridge social and psychological divides.
In "Gladiator School,'' Shabazz, HYCIDE's creative consultant, shares his account of working as a corrections officer at Rikers Island in the 1980s and his quest to document conditions in the prison, as well as the dignity of inmates.
"Village of Widows," Etebar's photo essay on women survivors of the Rwandan genocide, shares the story of Libirata, who describes her children's murder during the 100 Days War and her journey to escape death.
In "New Hope,'' Hanif focuses on residents of a church-owned Newark housing project where Crips, children, hustlers and elders treat each other with love and respect, despite the negative perceptions attached to their community.
During the fall of 2013, The Golden Triangle will also manifest itself as a public art project in New York, New Jersey and Philadelphia, including a mural commissioned by MoCADA, the Museum of Contemporary African Diasporan Art in Brooklyn.
"To work with these two extremely compassionate and insightful photographers is a dream come true," says Hanif. "In The Golden Triangle, we present another side of everything you thought you knew and understood; showing people as they truly are, devoid of popular misconceptions."
Aljira, a Center for Contemporary Art is located at 591 Broad St, Newark, N.J. 07102.
Media Contact
Carrie Stetler
carrie.hycide@gmail.com
973-229-8351