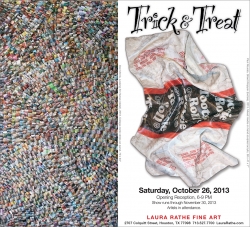 Houston, TX, October 03, 2013 --(
PR.com
)-- For the October 23rd exhibition opening at Houston gallery, Laura Rathe Fine Art, contemporary sculptors, Don Morris and Paul Rousso will display a series of wall, pedestal and freestanding sculptures inspired by iconic Pop culture imagery and figures. Suitably titled, "Trick&Treat", the two-person exhibition highlights Morris's detailed comic-strip collage pieces, as well as Rousso's large- scale, currency and candy sculptures.
The "Trick&Treat" exhibition will be on display through November 30, 2013.
About The Artists
Don Morris was born in New Orleans in 1935 and obtained his doctorate degree at Louisiana State University. Morris states, "Although there are many aspects of my work that can be intellectualized, the fundamentals still require that inner aesthetic sense. But in the finalanalysis, it is the viewer that deems my work either 'art' or 'folly.' I ply my trade before a thousand critics."
Best known for his "Our Heroes" series, Don Morris' constructions with comic books recall memories of the Pop Art of the sixties when Andy Warhol reigned supreme. In "Our Heroes" the ever popular comic book is transformed into energetic architectural elements that are highly textured and brightly colored. From a distance the viewer sees only the interplay of colors and texture, but as the viewer is drawn closer, the super heroes of the comic book fly, struggle, and climb before us in small fragments and vignettes. Word bubbles from the comic book text are clearly visible throughout the pieces and the viewer can read the dialog of our action heroes.
Morris art is in numerous collections and museums across the United States, Europe and Asia. He currently works and resides at his studio in Rancho Santa Fe, California.
American artist, Paul Rousso, uses heat infusion on plexiglass to create hyper-realistic, hyper-sized, sculptures of crumpled money. The pieces of American dollar bills as well as international currencies reach dimensions of 4 feet by 5 feet, that can be gloriously hanged on the walls. Aside from currencies, Rousso also sculpts other discarded items such as candy wrappers and magazine pages, all in massive sizes. For all of the production and manpower exerted in the crumpled appearance of these objects, Rousso's satire lies in inflating their size to inescapable proportions.
His practical experience in visual art was kick-started with stints as art director and freelance illustrator for Revlon, Clairol, Condé Nast, and Bloomingdale's. He was also commissioned for a special project with the Time Warner Cable Arena in Charlotte, North Carolina and as part of an interior design team for the home of Robert De Niro. His work has been exhibited in galleries and museums in Atlanta, Charlotte, Los Angeles, New Orleans, Houston and Miami.
About Laura Rathe Fine Art
Formally established in 1998, Laura Rathe Fine Art represents a dynamic artist roster including emerging, mid-career, as well as blue-chip contemporary artists. With a primary focus on abstract expressionist painters, LRFA also represents diverse sculptors, mixed media artists, as well as photographers.
Located in the heart of the gallery and design districts of Houston and Dallas, Texas, LRFA hosts artist exhibitions, art walks, as well as provides art consultation services to private and corporate collectors and to the design industry.
For additional information, details or to schedule an interview, please contact
Laura Rathe, Director Laura@LauraRathe.com &/or 713.527.7700 Courtney Feavel, Assistant Director Courtney@LauraRathe.com &/or 214.761.2000