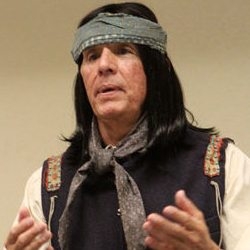 Thousand Oaks, CA, October 03, 2013 --(
PR.com
)-- Forty years ago, Rudy Ramos was a handsome young actor who burst on the national scene playing "Wind," a half-Pawnee ranch hand on the groundbreaking TV series "The High Chaparral."
Now, Ramos is seeking the public's help to fund the most meaningful role of his career: portraying the legendary Apache leader Geronimo in the one-man show, "Geronimo, Life on the Reservation."
Ramos has launched a crowdfunding campaign on Kickstarter.com with a goal to raise at least $12,000 for the project by Tuesday, October 8. More than half the desired amount has been raised to date, but all funds will be returned to the donors if the project does not reach its goal by the deadline, now just five days away.
"I am truly amazed at the kindness and generosity of people offering help in raising funds for this project," said Ramos. "To my knowledge, no one has ever played Geronimo at this age when he was a POW. I am honored to play him and to give him his long overdue voice."
"Geronimo, Life on the Reservation," is a historical fantasy about the last 20 years of the Indian warrior's life, spent as a prisoner of war on the Fort Sill Indian Reservation in Oklahoma. Written by Janelle Meraz Hooper, the one-man show focuses on Geronimo's humor and resilience. Prior to his eventual surrender, more than 5,000 U.S. Army troops were involved in the hunt to capture him.
Every person pledging at least one dollar to the Kickstarter campaign will receive a reward related to the Geronimo project. Rewards range from a personal thank-you email sent by Ramos, to a package of benefits including two tickets to a performance of the show and dinner with the actor.
To donate, visit www.Kickstarter.com and search for "Geronimo, Life on the Reservation." The project page includes a video clip of Ramos portraying Geronimo at the Memphis Film Festival earlier this year, to give potential backers a peek at what the full production could become.