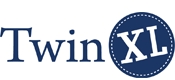 Blaine, MN, October 03, 2013 --(
PR.com
)-- College students all over the U.S. are off to colleges and private universities to begin their 4 year adventure in dormitories. One important way to aid in the transition and make life more enjoyable is by finding quality bedding. TwinXL.com is a leading supplier of just that kind of bedding! Dorms offer extra long beds (XL) to students to make their stay more comfortable and TwinXL.com meets all those bedding needs. With lots of choices in, colors, fabrics, and items all students need.
Their bedding brand, Ivy Union just came out with a collection of 100% Cotton Jersey sheets with a wide selection of colors available. These sheets are made to fit those extra long beds offered at colleges. They have deep pockets to fit even the thickest of beds and yet will fit well with just a 9 inch mattress. The elastic edge makes sure of a good fit. These sheets are all cotton, and machine wash and dry. Any student doing their laundry for the first time at the dorm can handle these "no fuss" sheets. And parents, remember, with a student's busy schedule having a spare set of sheets on hand would be wise, so they can have one going to the wash and one on the bed!
And don't forget to get a mattress pad, because more than likely that mattress was used by another student last year. A mattress pad puts a few layers between your student and the used mattress. It offers some padding, and if a student spills anything on the sheets it will help to have a mattress pad to absorb liquid. This can then be easily washed, any stains on the mattress are there for good. Twin XL offers several options in their Ivy Union collection. The 250tc. Damask Stripe Mattress Pad has been most popular. It fits deep mattresses and is filled with hypoallergenic polyester for all season comfort. Machine wash and dry. The 250tc. Gel-Fiber Filled Mattress Pad will also fit even deep beds. And the Ivy Union Waterproof 200tc. Cotton Mattress Pad is a quiet and durable polyurethane laminate layer to protect your mattress. Also fitting mattresses up to 22 inches deep. All mattress pads are machine wash and dry making it easy for the student to take care of.
Twin XL also offers a line of Ivy Union Comforters. A Down Alternative Microfiber Comforter and Sham set is available in a variety of colors and new colors will be available in late fall. The Twin XL Comforter is 66x92 inches with a polyester filling, the right size for the extra-long beds. It is made of easy care microfiber fabric perfect for a college student.
Getting a good-night's sleep is an important factor for a student's performance and TwinXL.com offers a wide array of bedding products to fit every student's needs. The variety they offer has something for everyone's taste and budget. Check them out at www.twinxl.com