Self Storage Profits, Inc. Announces Dates for Private Money & Syndication 3-Day Live Event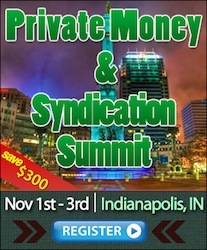 Indianapolis, IN, October 05, 2013 --(
PR.com
)-- Self Storage Profits, Inc., the nation's leading Self Storage Education Company, will be holding its 2013 Self Storage Private Money & Syndication Summit November 1st -3rd at the Columbia Club in Downtown Indianapolis. The focus will be cutting edge strategies the pros are using in the areas of raising private money to launch or grow a Self Storage Business.
The organizer is Scott Meyers, owner of Self Storage Profits, Inc., along with his team of key industry professionals that specialize in the private equity arena. The three-day event teaches real estate investors and entrepreneurs how to find private lenders, The proper ways to form an attractive offering to safely and legally raise private capital to fuel growth.
"Our November event is shaping up to be the biggest and best yet due to the heightened interest in Self Storage investing," says Meyers. "We have added a full day to this exciting private equity event with a focus on today's strategies for acquiring and financing existing facilities!"
Topics will include: Private Placement Memorandums PPM's, Operating Agreements, Subscription Agreements, Debt Partners, Equity Partners, Preferred Returns, Syndication, Reg D, 504, 505, 506, Appropriate Rates of Return, Syndicator/Promoter Fees, and Several Live Case Studies, plus a Networking Steak Dinner for all attendees Saturday Evening.
For additional information and to register for this event, visit www.SelfStorageMoney.com or dial 877-662-5924