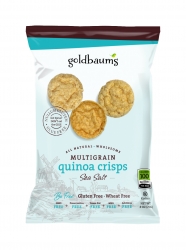 Newark, NJ, October 15, 2013 --(
PR.com
)-- Quinoa (Keen-wa). It's all the rage amongst the health conscious and has rapidly gained popularity in the mainstream marketplace. An ancient, wholesome seed that's being rediscovered by nutritionists and everyday consumers for its nutritional punch, you might not expect to find quinoa in the snack aisle. But that's exactly where Goldbaum's, a gluten-free brand known best for its brown rice pasta and ice cream cones, is placing it.
Foraying into the good-for-you snack niche for the first time, the company has introduced popped, all natural, multigrain Quinoa Crisps. The surprisingly flavorful crisps are already making waves as intrigued shoppers reach for the crispy, airy snack that satisfies on more than one level.
"Quinoa is a great tasting, nutty, full-bodied grain that's rich in nutrients and free of gluten. We figured, why not create some snackable, fun nibbles with the seed, that health-savvy consumers can feel good about bringing home to their families?" said Max Oshry, Goldbaum's Director of Product Research & Development.
Quinoa was first discovered thousands of years ago by the Inca warriors, who claimed that the grain-like seed made them stronger. Why is quinoa suddenly so hot on the market? A high quality protein source with nine essential amino acids, quinoa holds 'protein appeal' to vegetarians and non-vegetarians alike. Quinoa also contains iron, which maintains red blood cell health, improves overall brain function and acts as a metabolism booster.
The first product to benefit from Goldbaum's newly rebranded packaging, Quinoa Crisps are easily identifiable as the premium treat they actually are. In keeping with its new Be Free slogan, the crisps are prominently labeled as wheat-free, gluten-free, GMO-free, MSG-free, preservative-free and additive-free. And at 100 calories and 2 grams of fiber per serving, they're also guilt-free which is why they're being scooped off the shelves by snack-lovers looking for a grab-and-go crunchy treat that they can feel good about eating.
Consumers already hooked on the crisps, which come in sea salt, onion & garlic, and barbeque flavors, will be happy to know that there's more where these chips came from. Both food connoisseurs and nutrition-aware consumers can look forward to a slew of new products in the Goldbaum's pipeline which, like Quinoa Crisps, are leaps and bounds tastier than their Nutrition Fact panels might lead you to believe.
In addition to quinoa, Goldbaum's multigrain Quinoa Crisps are made with what reads like a 'who's who' of healthy grains, including brown rice, wholegrain corn, flaxseed and teff. And despite its impressive nutrition profile, thanks to its highly rated flavor profile, shoppers don't have to make a special trip to a health food store to get their hands on this premium snack. They're readily available throughout the U.S. at supermarkets such as Whole Foods, Price Chopper, Shop Rite, Stop and Shop, and other national retailers.
For more details please visit
http://goldbaums.com/popchips.html
if you have any question please email to info@goldbaums.com