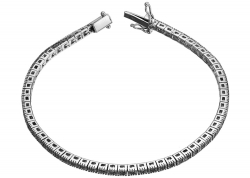 Tel-Aviv, Israel, October 17, 2013 --(
PR.com
)-- Throughout the month of October, Pasternak Findings is offering special discounts of up to 30 percent on
select diamond bracelet designs
from their unique collection of 18K white gold Piero Milano tennis bracelets and bezel diamond bracelets. The bracelets are available in different sizes to meet the needs of all jewelry designers, and are ready for mounting with diamonds and/or precious stones.
"With the holiday season quickly approaching, now is the time to take advantage of this special, limited-time sale on 18K white gold diamond bracelets. After selecting tennis and bezel diamond bracelets, designers simply need to choose diamonds and/or precious stones and set them in the mountings," said Zeev Pasternak, Pasternak Findings owner.
"Diamond bracelets are classy and the ultimate status symbol. They are sure to be runaway bestsellers for anyone and everyone looking for the perfect gift this season. As always, Pasternak Findings offers the best in customer service and satisfaction. Do not miss out on this special sale!" concluded Pasternak.
Visit their website today at
www.pasternakfindings.com
to shop their collection of discounted gold diamond bracelets. Sale prices are available for a limited time only.
Pasternak Findings is a privately owned company, held by Zeev and Martine Pasternak, who have been in the jewelry findings supply business for more than 20 years. Pasternak Findings is the "one-stop-shop" destination for goldsmiths, designers, creators, small manufacturers and students alike who are looking to create fine jewelry. Pasternak Findings prides itself on the quality of its customer service as well as the wide, diverse variety of jewelry findings and jewelry making supplies offered. The wide variety of products that Pasternak Findings offers serve the leading jewelry companies in the world as well as well as major global jewelry magazines.