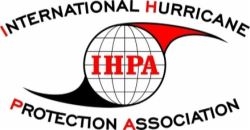 Lantana, FL, October 18, 2013 --(
PR.com
)-- Frank Browning, President of the International Hurricane Protection Association (IHPA), has announced that a meeting will take place at the Hilton Pensacola Beach Gulf Front Hotel on November the 8th. Browning stated that the IHPA is particularly excited about this meeting as it brings together speakers and representatives of the IHPA, Smart Home America, IBHS, Strengthening Alabama Homes, FORTIFIED and those addressing the Nation's flood risks. Issues relevant to hurricane prone regions will be discussed and will be of interest to those in the building, storm protection, flood hazard, engineering, government and insurance industries.
The meeting will feature seminars, a general meeting, tabletop displays and a meet & greet. Registration is required. For details and registration visit: http://www.inthpa.net/Pages/MeetingsandEvents.aspx
About the International Hurricane Protection Association
The IHPA is a not-for-profit organization with a membership which includes manufacturers, suppliers, contractors and government agencies involved in hurricane protection systems, information, and education to insure the publics' welfare and safety, therefore minimizing the loss of life and the destruction of property associated with hurricanes. For more information, go to the IHPA website at www.inthpa.com.