What the Online Fashion Shops Hope Will Never be Discovered: Playing Dress Up Just Got Real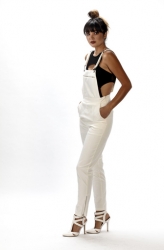 Trabuco Canyon, CA, October 22, 2013 --(
PR.com
)-- What the online fashion shops hope will never be discovered: Bloody-Fabulous.com for Girls Has Launched and Offers a Better Way to Shop Online
Bloody-Fabulous.com has officially put the online fashion shops industry on notice: the traditional online shops for girls will soon be as outdated as typewriters are today.
Bloody-Fabulous.com, the new online fashion shop exclusive for girls, has launched and promises to treat all customers as rebel princesses. Not only clothing but also accessories, and shoes are sold via this extremely easy to navigate online shop.
The advantages offered are free shipping for each order of more than $75, a $10 bonus if you refer a friend (or BFF), the ability to check the order status, and easy returns. There is also a noteworthy blog that includes all the information on the latest fashion items added to the shopping catalogue provided by fashion bloggers from all over the world.
As Rachel Lauren, Founder of Bloody-Fabulous.com, explains "To all of you rebel princess babes out there, we may not be able to give you a castle in the sky, but we can definitely make you look the part of someone who has one." And, she adds "A Bloody-Fabulous Girl is sweet with a bad girl edge. Our customer is inspired by the world around her, ambitious about her dreams, and loves to play dress up."
Bloody-Fabulous promises to keep rebel princesses satisfied. For a detailed look on Bloody-Fabulous.com visit the website and enjoy its unique privileges. As they promise "playing dress up just got real." www.bloody-fabulous.com
About
Bloody-Fabulous.com, launched in 2013 and based in Orange County, California, is a totally girly online shop that serves customers worldwide selling clothes, accessories and shoes. It cooperates with fashion bloggers worldwide to keep track of the latest fashion trends and update its unique catalogue. www.bloody-fabulous.com
Contact:
Rachel Lauren
949-228-5159
info@bloody-fabulous.com