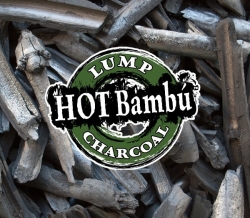 Austin, TX, October 22, 2013 --(
PR.com
)-- Maya Bamboo, makers of Hot Bambú charcoal, bring a sustainable choice in the grilling market with a charcoal that has no chemicals, fillers, or trees.
The world's consumption of grilling charcoal, made from wood, leads to clear-cutting, loss of natural resources, and soil erosion in developing countries. Traditional methods of charcoal production release methane and particulate gasses into the atmosphere over a 10-15 day production cycle.
Bamboo is a rapid growing and quickly renewable resource that sequesters carbon from the atmosphere at a faster rate than slower growing hardwood and softwood crops, and produces a greater biomass yield compared to traditional timber sources.
By using bamboo and clean production technology, Maya Bamboo's goal is to bring Hot Bambú, their sustainable grilling charcoal product to grilling enthusiast everywhere. In order to fulfill their goal, the company has launched a Kickstarter campaign to help fuel this great idea.
Check it out:
bit.ly/hotbambu
About the product:
Master your grilling experience with 100% natural bamboo lump charcoal. Hot Bambú' lights fast, burns hot and long, and doesn't contribute to deforestation.
· Contains no fossil fuels, fillers, or chemicals.
· Burns clean, with little smoke.
· Lights easily, no need to use lighter fluid.
· Burns hot with little ash production.
· Brings out the natural flavor of the food you are grilling.
Facts about Maya Bamboo:
–Nominee for a Katerva award– innovation in Materials and Resource category.
–Official Selection @ SXSW Eco Springboard. One of 12 early stage companies invited to present.
Established in 2008, Maya Bamboo LLC is the proud producer and manufacturer of Hot Bambú lump charcoal, a sustainable bamboo charcoal used for grilling. The company operates in partnership with sustainable bamboo plantations, utilizing clean technology in its manufacturing processes.
Founders: Cassie LaCourse– cassie@mayabamboo.com
Jay LaCourse– jay@mayabamboo.com Phone– 888.500.1067
For more information and supporting imagery: http://www.hotbambu.com/page.asp?id=71