Villiger Cigars Proudly Announces: Fabian Barrantes as the New Director of Marketing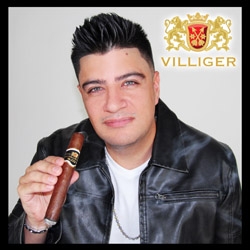 Charlotte, NC, October 23, 2013 --(
PR.com
)-- Villiger Cigars North America based in Charlotte N.C. is proud to welcome Fabian Barrantes as the new Director of Marketing effective Monday October 21st 2013. "I'm excited to be working with a creative genius like Fabian," said Roy MacLaren.
His extensive knowledge and creativity will be an asset to my company's success moving forward. Fabian's past experience in the entertainment industry brings Villiger a more creative and edgier look into the young cigar smoker as well as the entire cigar market.
Mr. Barrantes previous experience includes Marketing Director and Product Development of Boutique Blends Cigars. During Fabian's time with BBC, he helped create many great products for Aging Room and Swag Cigars that received many wonderful ratings. He was instrumental in the huge success of these brands, as he was involved in the blending, packaging, and promoting of the cigars.
Fabian brings a combination of hands on sales experience as he has traveled across the United States promoting and meeting with retailers as well as extensive marketing knowledge.
Fabian has the pulse of the retail market which is so important to any company!
"I'm very excited to have Fabian on board with us at Villiger.
"He will be an asset to the company as we continue to grow our market share in the United States."
-Roy E. MacLaren
President, Villiger Cigars North America.