Need a Resource for Exchange Online, Exchange Hybrid, and Exchange Server 2013? Try William Stanek's Exchange Server 2013 Pocket Consultant: Configuration & Clients.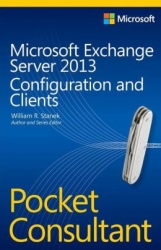 Seattle, WA, October 26, 2013 --(
PR.com
)-- Need a resource for Exchange Online, Exchange hybrid, and Exchange Server 2013? Try William Stanek's Exchange Server 2013 Pocket Consultant: Configuration & Clients (ISBN: 9780735681682). This 378-page guide to Exchange Server 2013 is laser focused on core configuration tasks for Exchange Online, Exchange hybrid, and Exchange Server.
For this book, William says he decided to do something radically different than he's done in the past. He decided to laser focus the book on core configuration tasks and this allowed him to do something he's never been able to do before. It allowed him to wrap his arms around Exchange Online, Exchange hybrid, and Exchange Server and discuss them all.
Because a discussion of Exchange Online would not be complete without a discussion of Office 365 and Windows Azure, Office 365 and Windows Azure are also explored throughout the book. Embracing Exchange Online, Exchange hybrid, and Exchange Server allowed William to push the discussion in new directions.
One of the areas William delves into exhaustively is Exchange Management Shell. Not only does he discuss how to customize and troubleshoot Exchange Management Shell for onsite Exchange Server configurations, he also examines how to use the Exchange Management Shell and PowerShell to connect to and work with Exchange Online, Office 365, and Windows Azure. He explores using manual remote shells to connect to Exchange servers and Exchange Online when all other options fail, such as when Exchange has an invalid configuration that prevents connecting any other way.
To help you get a better idea of the topics covered in the book, they'll include the top-level table of contents. As you work with Exchange Online, Exchange hybrid, and Exchange Server configurations, they hope you'll find this first of its kind guide to be one of the best resources available for your everyday administration needs. You can find the book at:
Amazon http://www.amazon.com/Microsoft-Exchange-Server-Pocket-Consultant/dp/0735681686/
Barnes & Noble http://www.barnesandnoble.com/w/microsoft-exchange-server-2013-pocket-consultant-william-r-stanek/1116243107?ean=9780735681682
O'Reilly http://shop.oreilly.com/product/0790145392138.do
Table of Contents
Chapter 1 Exchange Server 2013 administration overview
Getting started with Exchange 2013 and Exchange Online
Exchange Server 2013 and your hardware
Exchange Server 2013 editions
Exchange Server and Windows
Exchange Server and Active Directory
Exchange Online and Office 365
Using the graphical administration tools
Using Exchange Management Shell
Chapter 2 Deploying Exchange Server 2013
Exchange Server messaging roles
Integrating Exchange server roles with Active Directory
Integrating Exchange Server 2013 into existing Exchange organizations
Running and modifying Exchange Server 2013 Setup
Understanding cumulative updates and service packs
Installing cumulative updates and service packs
Chapter 3 Exchange administration essentials
Accessing and using Exchange Admin Center
Bypassing Exchange Admin Center and troubleshooting
Validating Exchange Server licensing
Using and managing Exchange services
Chapter 4 Using Exchange Management Shell
Using Windows PowerShell
Working with cmdlets
Working with Exchange Management Shell
Using a manual remote shell to work with Exchange
Chapter 5 Managing Exchange Server 2013 clients
Configuring mail support for Outlook
Leaving mail on the server with POP3
Checking private and public folders with IMAP4 and UNIX mail servers
Managing the Exchange configuration in Outlook
Using mail profiles to customize the mail environment
Chapter 6 User and contact administration
Understanding users and contacts
Understanding the basics of email routing
Understanding on-premises and online recipient management
Managing user accounts and mail features
Managing contacts
Chapter 7 Mailbox administration
Creating special-purpose mailboxes
Managing mailboxes: The essentials
Moving mailboxes
Configuring mailbox delivery restrictions, permissions, and storage limits
Chapter 8 Working with distribution groups and address lists
Using security and distribution groups
Working with security and standard distribution groups
Working with dynamic distribution groups
Other essential tasks for managing groups
Managing online address lists
Managing offline address books
Chapter 9 Implementing Exchange security
Configuring standard permissions for Exchange
Configuring role-based permissions for Exchange
Performing advanced permissions management
Using shared and split permissions
For more information, visit www.pocket-consultant.com and www.williamrstanek.com.
About the Author
William Robert Stanek's remarkable writing career has spanned more than 30 years. During this time, he has become one of the more widely read authors of our time, with books sold in 34 languages in over 50 countries and more than 50 bestsellers. His more than 150 works of fiction and nonfiction range broadly in literary genres from action/adventure, mystery and suspense to science fiction and fantasy, in subject areas from computer technology to military memoir, and in children's picture books for toddlers, preschoolers and early elementary school readers.
Not only is William Robert Stanek astonishingly prolific, his life experiences and travels have taken him through all 50 states and many countries around the world. In his youth, he worked as a roofer, builder's helper, stock boy, gardener, auctioneer's assistant, and more. His military career as an Intelligence analyst and combat flyer took him to the far corners of the world from Asia and the South Pacific to Europe and the UK. In addition to being a writer and technology journalist, he is an illustrator, a photographer, an educator, and an explorer.